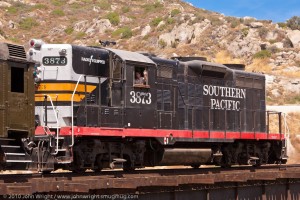 Experience what railroading is like from the engineer's point of view by reserving a Cab Ride ticket today!  Take in the sights, listen to the sounds, and feel the rumble of the powerful diesel locomotive as it snakes its way through the rugged landscape of east county.
This experience is geared for visitors ages 6 and older.  We ask visitors to be prepared for long periods of standing as not all locomotives have seating for all cab riders.  Ear plugs are available at no charge in the gift shop and in the locomotive for those who wish it.  We also require all cab riders to wear closed-toed shoes for their safety.  Visitors must be able to ascend and descend the steps on the locomotive under their own power or with assistance from one of our train crew volunteers.
Reservations may be made for one or two people to ride in the locomotive cab. Please check the Museum's Excursion Calendar for available cab ride dates. Click on your desired date and time to see the availability of Cab Ride tickets.  Two passengers may occupy the locomotive cab at any one time.  If more than 2 people from the same party wish to ride in the cab, we are happy to swap one or two persons from the coach portion of the train to the locomotive cab at the train ride's half-way point.  Please ask the train conductor or ticket agent for more details.
If cab ride tickets have not yet been sold online, cab ride tickets may be purchased on the day of the train ride at the Campo Depot.  Already purchased a ticket to ride the train? No worries! Upgrades from a coach ticket to a cab ride ticket are also available at the Campo Depot if the cab ride tickets have not yet been sold.
The Fine Print
Cab riders must be six (6) years old or older.
Cab riders under the age of eighteen (18) must be accompanied by another paid cab rider over the age of eighteen (18) at all times when riding in the cab.
Cab riders must wear closed-toed shoes.  Sandals and other open-toed footwear are not permitted at any time in locomotive cabs.  Guests wearing open-toed shoes will not be allowed to ride in the locomotive cab.
Cab rides are not wheelchair accessible. Cab riders must be able to climb the steps onto and off of the locomotive and walk along the walkway on the outside of the locomotive.
At the engineer's discretion, a cab rider may be asked to ride in the coach portion of the train if the engineer feels that the cab rider is unfit to ride in the cab.
Note: Cab rides are not offered for all trains that operate at the Museum.  There is no age restriction for those riding in coach or first class portions of excursion trains.