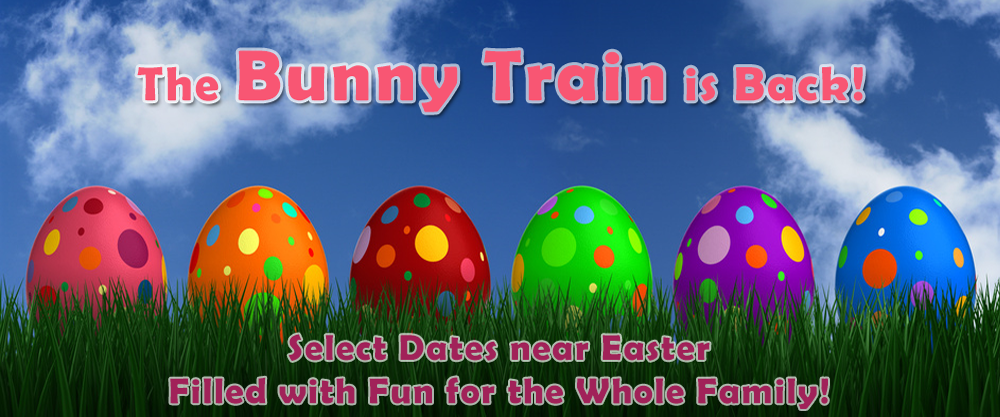 Come Join Us!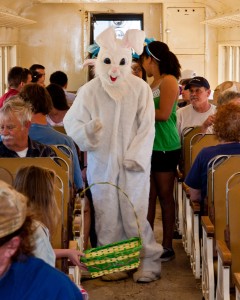 Looking for a new way to celebrate the Easter holiday with your family?  Look no further than the Pacific Southwest Railway Museum!  Complete with a train ride, a visit from the Easter Bunny, and an Easter egg hunt, the Bunny Train event at the Museum is perfect for the whole family.
The Bunny Trains and associated events run on the dates listed below.  Tickets can be purchased in person the day of the event at the Campo Depot.  Advance reservations are not required for this event.
The celebration kicks off with a train ride.  The Easter Bunny will board the train at the Campo Depot and visit with all of the passengers on the train before it travels through San Diego's beautiful east-county mountains.  After enjoying the 45-minute journey, the train stops at the Museum's Display Building where more fun awaits.  Two Easter egg hunting areas will be open for the children.  One is geared towards our smallest travelers with eggs in plain sight; the other takes up the entire Display Building with eggs carefully hidden by the Easter Bunny.  The children may turn in the plastic eggs they find to Museum volunteers for sweets and other prizes.  The best part – entrance into the Display Building and both Easter egg hunts is included in the price of your train tickets!
TICKETS
Fares for the Bunny Train:
Note: Passengers arriving less than 30 minutes before their train ride are not guaranteed a visit with the Easter Bunny due to program restrictions.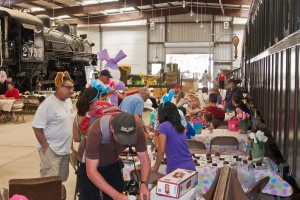 Infants and Toddlers (Under 3 In Lap) $5
Children (ages 3 – 12) $14
Seniors (ages 65 and older) $15
Adults (ages 13 – 64) $18
Locomotive Cab Rides
Cab rides are $40 per person for ages 6 and up.  Persons under 6 are allowed to ride the train, but not in the locomotive.
Only two cab ride spaces are available on each train.  Please see the Locomotive Cab Rides page for more details.
Please wait for the window to load below. If you experience an error, please click here to reserve your tickets.