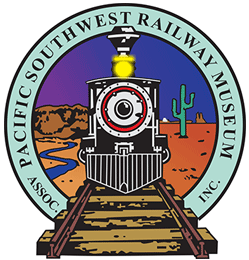 MISSION STATEMENT
The Pacific Southwest Railway Museum Association, Inc. is dedicated to preserving the physical legacy, historical context, cultural landscape and experience of rail transportation. Programs address the historical, social, economic and technical impact of railroading with particular emphasis on railroads of San Diego County and the larger systems with which they connected in the United States and Mexico.
PURPOSE
The Museum stresses a living history approach in interpreting railroad history to the widest possible audience. PSRM's programs are designed to increase public appreciation, education and enjoyment of the significance of the railroad heritage through:
Operation of a demonstration railroad
Establishment of a research library available to the public
Educational facilities which are maintained and operated for the instruction of the public in railroad history, railroad operations and general rail transportation technology
The Museum's collections are used to support the following mainline stories and to create a museum specialty niche in historic preservation. Specific substories connect "branchlines" and are approached within the context of one or more of the major themes. The dominant perspective will always be the history of Pacific Southwest railroading.
San Diego & Arizona Railway
Atchison, Topeka & Santa Fe Railroad
Southern Pacific
Military Railroading in the West
International/Border Railroading
Urban Electric Railroads
General Railroading and Early Era Railroading (Broad basic technology and history included primarily as background perspective when specific areas are not covered in context of other story lines)