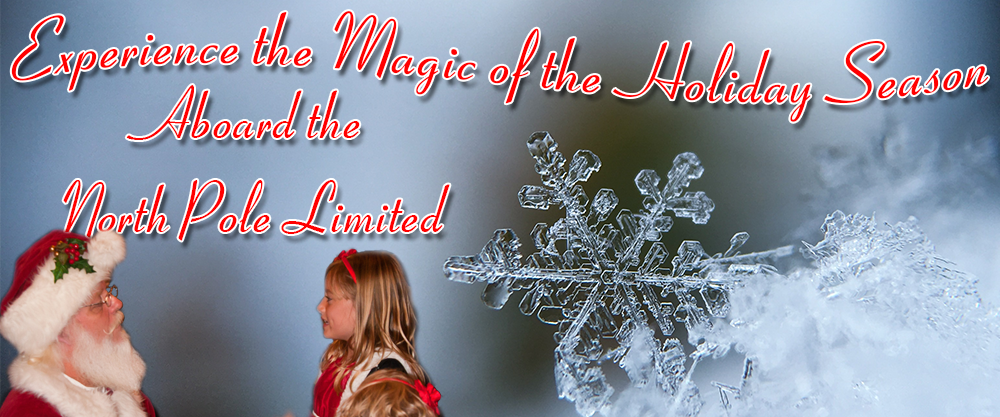 The famous North Pole Limited returns to celebrate the holiday season. This special holiday production is offered with the help of the Pacific Southwest Railway Museum Association's volunteers in cooperation with Mountain Empire and Bonita Vista Valley High Schools.

The fun begins at the lighted Campo Depot. Pick up your tickets from the Ticket Agent in our restored passenger waiting room. We recommend you plan on arriving at the Campo Depot at least 45 minutes before your train departs to allow ample time to park, get your tickets, and pass through our gift shop. Don't forget to stop by the Hobo Camp next to the Depot to hear tales from railroading's past.
Once onboard the North Pole Limited, Santa's elves will sing our favorite Christmas carols, read a popular Christmas story to all of our young ones, and pass out cookies and hot chocolate to all passengers. The North Pole Limited will stop at Santa's Workshop to pick up Santa and Mrs. Claus who will visit with all passengers on the train on our way back to the Campo Depot.
Seating Choices and Fares
Passengers riding in Coach Class will enjoy the North Pole Limited from one of our restored 1920s vintage commuter cars.  These seats are most numerous and lowest priced.  Passengers riding in Coach Class will enjoy all of the above activities as we head to the North Pole.
Coach Fares for the North Pole Limited Start At:
Toddlers (under age 3 riding in an Adult's lap) – $10
Children (ages 3 – 12) – $25
Adults (ages 13+) – $35
Note: Fares will vary depending on date and time of train
All NPL tickets are sold out. Thank you for a great 2018! Santa and his elves will return in 2019!