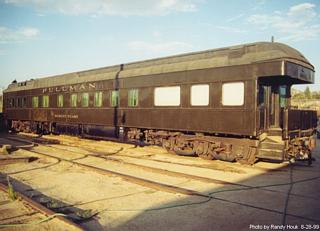 A "mansion on wheels" from the golden age of railroading, this car was used by a U.S. president, movie stars, and business executives.
Built by The Pullman Car & Mfg.Corp., Pullman, IL; July 1927
Named after a polar-exploring US Admiral, and one of six cars in the Explorer series, this steel heavyweight was built to Plan 3972, Lot 6037. It is 83′ 5 3/4″ long, 10′ wide, 14″ 1/4″ high, and weighs 196,000 lbs.(98.1 tons). It has a galley with oil-burning stove/oven; stewards' quarters with shower/toilet and two berths; a conference/dining room; four (originally five) bedrooms; a shower; a solarium-lounge; and open observation platform. The six-axle car has Vapor Company heating. It had ice-activated air-conditioning (replaced in the 1930s by Pullman Mechanical), and couches in both the lounge and dining room that could be made into lower berths (later removed).
The car was operated by the Pullman Company for private-party use, and was hired with three stewards for a daily charge (in 1939 it was $105), plus railroad charges for moving and parking. U.S. President Franklin D. Roosevelt used the car 34 times in 1934, 1935, and 1936. Others reportedly using the Robert Peary in the 1930s included opera star Lily Pons and screen stars Nelson Eddy and Jeanette MacDonald.
In June 1944 this car was sold to the Chicago, Burlington, & Quincy Railroad, renamed Blackhawk for an 1830s Native American Sauk chief, and assigned to the Burlington Board Chairman, Ralph Budd, until his retirement in 1949. Blackhawk continued as a business car with the CBQ, which modified it in 1951 by removing Bedroom E and installing new Waukesha air-conditioning, a steam generator for self-contained heating, four lounge gauges, solid-type railings on the observation platform, and other items. The car received Timken roller bearings in 1962. Track inspection lights, built-in radio speakers, and phone jacks were also added. Blackhawk was retired in the mid-1960s.
In September 1966 the car was purchased at Aurora, IL by PSRMA Life Charter member Jack Stodelle on behalf of San Diegans John Cuchna, Charles Pratt, and Steve Sourapas, who had its exterior painted dark blue and the interior decorated in Victorian style, with cream and gold paint, red velour drapes, mirror tiles, and four 1920s Louis Icart lithographs, at a cost of $60,000. The car was named Victoria, after Pratt's wife. It was used as a party car around the United States and Mexico, and in 1973 was used in filming Executive Action with Burt Lancaster & Robert Ryan. In October 1974 Cuchna and Sourapas (who had bought out Pratt) donated the car to the PSRMA.
Victoria was used on PSRMA Amtrak excursions and from 1976 to 1984 was the centerpiece of its Bicentennial exhibit on Harbor Drive at B Street in San Diego. In October 1976, Victoria was used in filming MacArthur with Gregory Peck & Dan O'Herlihy, and in 1980 was painted Pullman green and renamed Robert Peary. In 1984 it was moved to the La Mesa depot for display. It went to Campo on "Great Freight II" on February 28, 1987. It is now on display, used on museum specials, and is available for charter on many of the museum's trains.