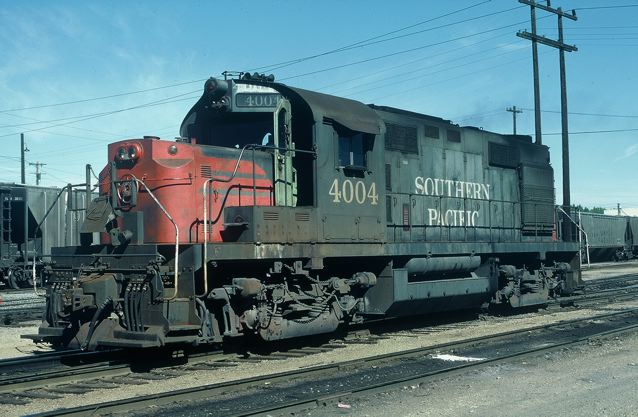 Bob Smith Collection.  Date and location unknown.
ALCo RS-32 #4004, nee #7304, arrived at Campo on July 20, 2005. This rare locomotive was made available by the Feather River Rail Society of Portola, CA as the group decided to concentrate on the Western Pacific Railroad and its history exclusively. The ex-Southern Pacific 4004 was conspicuous as a "foreign road" item and went onto the chopping block in the early 2000's. Now awaiting a full restoration when time and funds permit, this unit operated on the SD&AE in 1980 when it was leased from Chrome Crankshaft, the company who bought the engine from SP in June of 1979.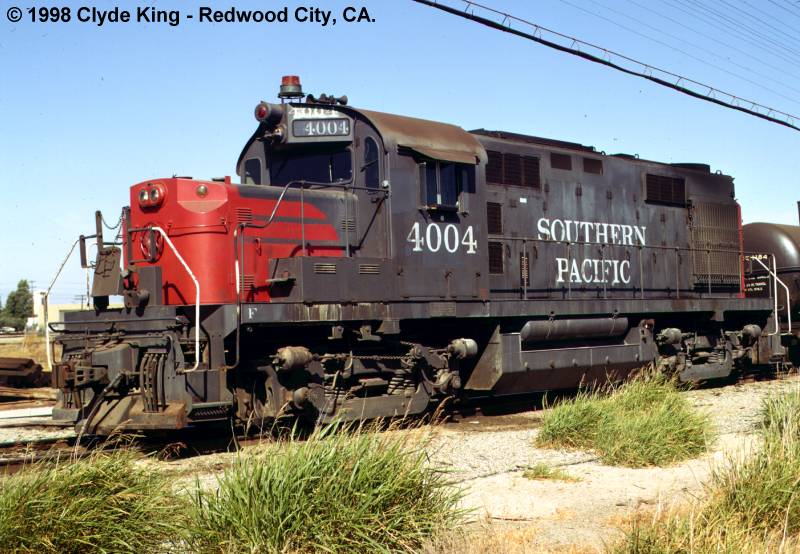 This locomotive is one of only 35 built by the American Locomotive Company between June 1961 and June 1962. The SP bought ten units and the NYC got the rest. The RS-32's were essentially a 2000 HP version of the RS-11's which were rated at 1800 HP. Most of the difference between them lies under the hood. (431 of the RS-11's were built between February 1956 and June 1961.) Our engine was one of the ten RS-32's built for SP in March and April 1962. The engine weighs 254,500 lbs and has a 12 cylinder type 251C power plant. The locomotives were all delivered in SP gray with "bloody nose" red trim on the snout and end. Originally delivered as No's 7300 -7309 they were renumbered by SP from 4000 to 4009 in 1965.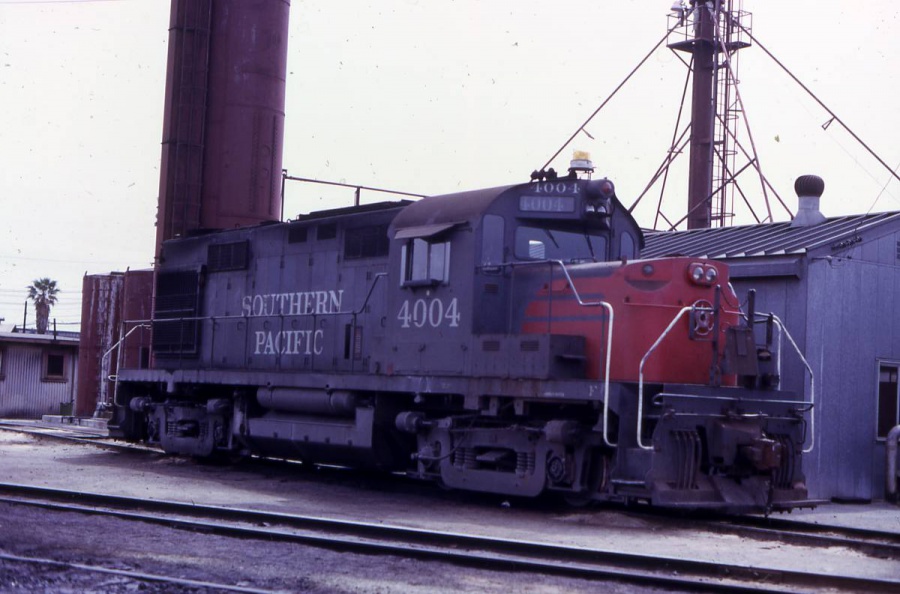 San Jose – April 7, 1974. Photo by Bob Smith.
The SP RS-32's saw extensive service between San Francisco and Los Angeles hauling Coast Merchandise trains. They were eventually demoted to switcher service and scattered all over the system. SP sold all ten of its RS-32's in 1978 and 1979. Chrome Crankshaft bought most of them, including ours, and sent them off in lease service in solid red paint retaining the SP numbers. 4004 went to San Diego's SD&AE to work the freight over the SD Trolley line and was photographed many times by local railfans on its way to El Cajon.

March 15, 1980 – Chrome Crankshaft #4004 heads a cut of freight cars in SD&AE's yard overlooking downtown San Diego.  Alan Miller Photo
Here are some photos taken by PSRM member Dave Finney in April of 1980. They show the locomotive pulling a train eastbound along Commercial St. towards El Cajon.
FRRS president Norm Holmes and one other member had 4 wheel sets delivered to Pocatello as the 4004 had sharp flanges and could not move on them. Norm and helper changed out the axles in two days of dirty, back breaking work that involved a rented 100 ton crane. The traction motors were removed and sent to Portola separately. They were never mounted on the 4004 during its 15 year stay in Portola but will be sent to Campo as part of the deal. This local connection and the rarity of this type of engine is what attracted us to it. After its service in San Diego, CC sold it to the J.R. Simplot Company of Pocatello, Idaho, in November of 1981. Somewhere on the way 4004's dynamic brake grid was removed. Simplot retired the unit in 1989 and donated it to the Feather River Rail Society in early 1990. The FRRS went to a great deal of trouble to get the unit delivered the 700 miles from Pocatello to Portola on its own wheels via UP in march of 1990.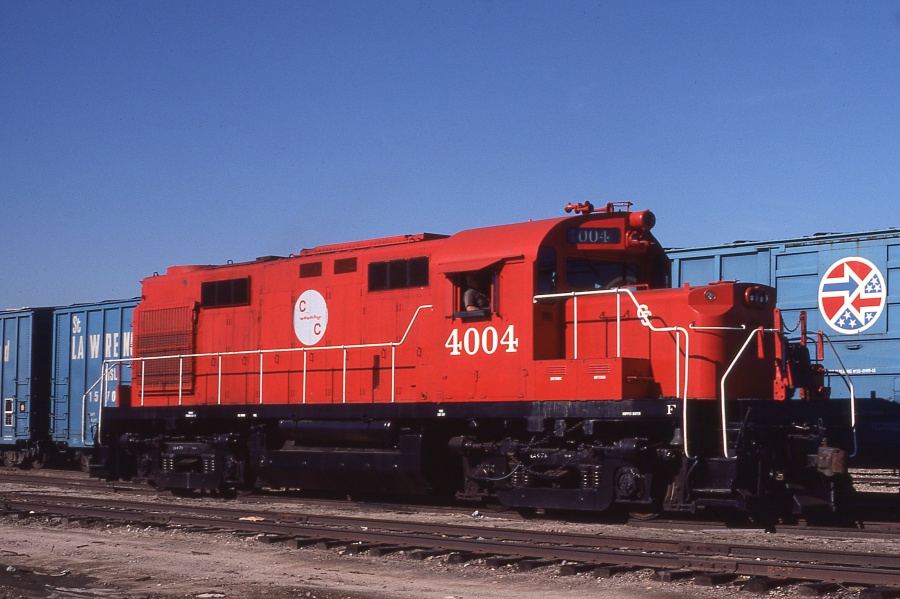 Only two other ex-SP RS-32's were known to exist in mid 1990. 4002 was working the East Tennessee Railway as their No. 211. 4009 went to Fillmore and Western Ry in Newhall, CA. Two of NYC's 25 RS-32's were left in 1990. One on the East Tennessee and one on the Arkansas & Missouri Railroad.
The Union Pacific picked up the 4004 in Portola and passed it off to the Carriso Gorge Railway who delivered it to Campo. The trip took ten weeks as a coupler was broken in a switching accident in UP's City of Industry yard. PSRM's Bill Palmer was dispatched to the Apache Railroad in Snowflake, AZ, when Paul Kennedy located a spare on the all-ALCo short line. While in Snowflake a dynamic brake grid was acquired along with a battery box door also missing on the 4004. This means that we can return the unit to its original SP appearance. Bill hauled all of this gear to Campo after dropping off the coupler at the City of Industry yard to be changed out by UP workers.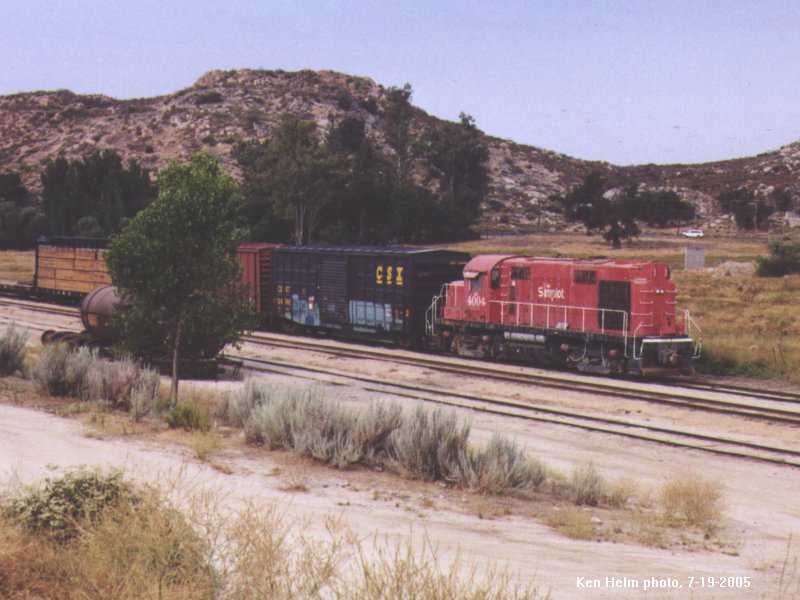 The engine was spotted on the Campo Depot siding by CZRy and picked up Wednesday July 20th by a crew of Dick Pennick, Dave DiGiorgio and Bill Palmer. Dick piloted our 80 ton SD&A #7285, then known as the "banana" because of its yellow paint scheme, as the 4004 was spotted on track 11 beneath the gantry crane. Larry Rose was on vacation at the time from working on our ATSF Cafe Observation car 1509 and grabbed the first picture of 4004 rolling on Museum property. Thanks to Ron Hyatt, Jim Lundquist and the aforementioned crew and the FRRS people, led by Rod McClure, who all had a hand in getting 4004 to it's new home.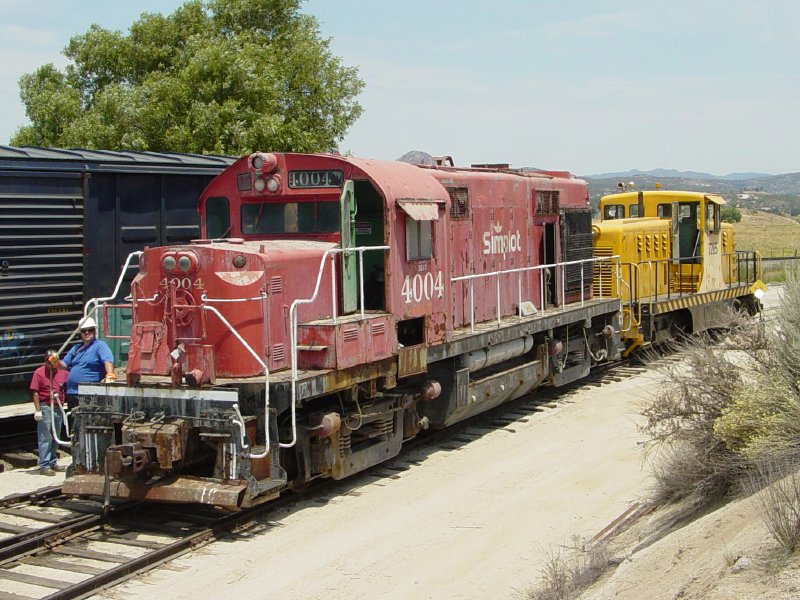 Many thanks to Norm Holmes of the FRRS who sent us his entire file on the RS-32 that allowed this history to be pieced together. Our own P. Allen Copeland furnished the rest of the data.