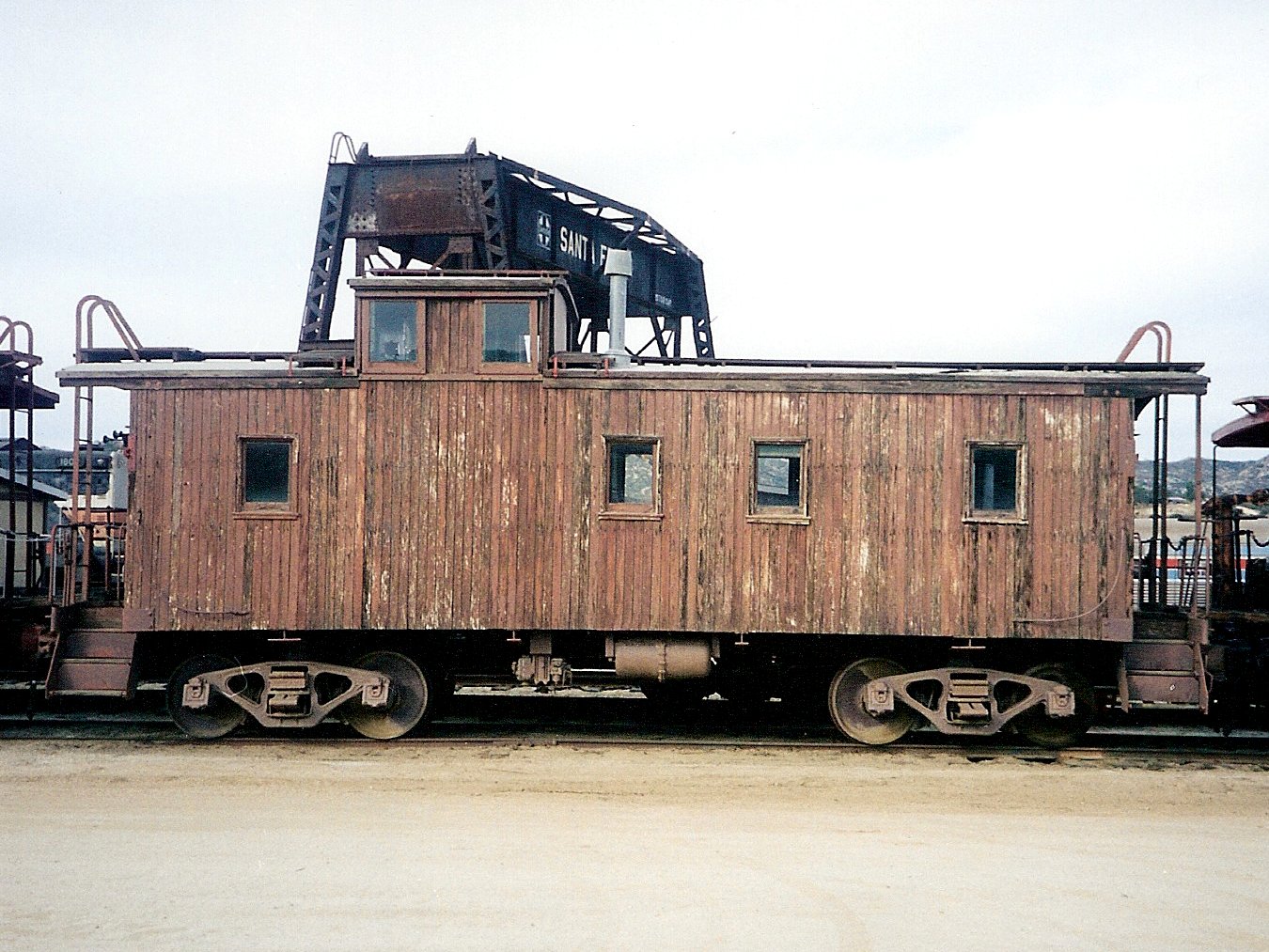 The Museum's oldest caboose, this railroad-built wooden car has many of its original furnishings still  intact, and at one time operated on the San Diego & Arizona Eastern Railway through Campo.  Built by Southern Pacific Company, Los Angeles, CA; May 31, 1917.
SP # 644 is 30′ 0″ long over end sills, 9′ 6″-wide, and its interior is 29′ 7″ long and 9′ 11″ wide. It has a 1927-installed potbelly stove, a coal bunker, sink, icebox, cabinets and oil lamps. Its archbar trucks were replaced in 1939 by Vulcan ones with Symington friction bearings.
A Class C-30-1, Spec. CSF 305 wood car with steel underframe, SP #644 is similar to hundreds built from 1900 to 1920, of which few survive. It was built during World War I with a sloping-side cupola, and rebuilt during World War II, when steel priorities prevented the replacement of wood cabooses with safer, structurally sounder steel ones. Costing $1,858.12, it was one of 21 in its series. (Four other Class C-30-1 cars were bought in 1922 by the San Diego & Arizona Railway, and were numbered SDA #401-404, giving the class a direct link with San Diego County railroads). Painted Mineral brown with white lettering in many styles through the years, SP #644 never had its number changed
SP car records show it was regularly shopped in Los Angeles from July 1921 to December 1924 and in Roseville and Sacramento between January 1927 and July 1956, indicating where it worked. SP #644 was rebuilt in Sacramento September 12-October 21, 1943; received a new vertical cupola and safety glass at Sacramento July 25, 1950; and had its ends painted Daylight orange July 18, 1956. It was leased to the SP-owned San Diego & Arizona Eastern Railway from June through September 1944, which gave it another link to this region. It was retired and sent to the Purdy scrapyard in Sacramento on November 16, 1960, and was later sold again. Eventually the old wooden caboose became the property of Patricia Hammond-Buck, and was stored for many years on her property at the Tropico gold mine near Rosamond, CA in the Mojave high desert.
Following an inquiry by the Museum, Mrs.Hammond-Buck donated SP #644 to the PSRMA February 10, 1984. It was trucked to Campo with funds from a donation and loan by the PSRMA Acquisitions Director, Roger Garrett, and a loan by Restoration Director Norm Hill. Commonwealth Electric unloaded it free of charge.
Museum members initially rehabilitated and repainted SP #644's faded exterior. Following an appeal by the Museum, money was donated for the restoration of SP #644 by friends and architectural-profession associates of Harold A. Johnson of Del Mar, CA, a PSRMA member who died in 1984, and to whom the car restoration was dedicated. New SP fusee racks, cupholders, formholders, period toilet, and an old kerosene lamp were installed, and the caboose interior was renovated and repainted "Institutional" green. Its wood exterior siding was later completely replaced and repainted Mineral brown (without orange ends), and will be relettered when time and funds permit. SP #644 is now on display at Campo in 1950-56 operating appearance, near the SD&AE line it once operated on. It's the senior member of the Museum's "Caboose Row".
1993 Pacific Southwest Railway Museum Association. W. Schneider