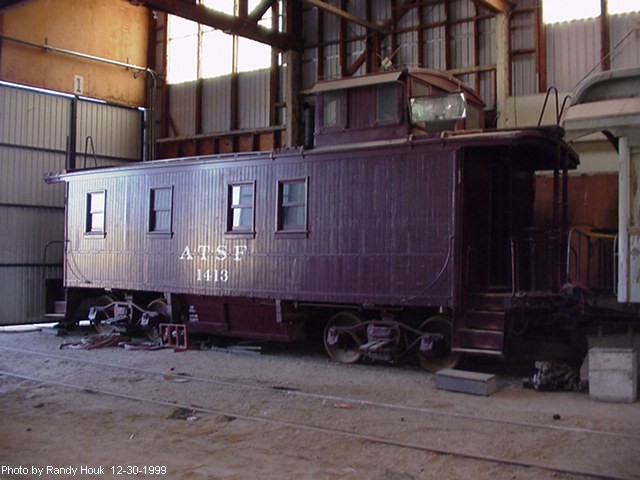 An outstanding example of restoration work, this classic wooden car was rescued from a scrapyard and restored by Museum members to its 1940s appearance, down to the condiments on its shelves.
Built by American Car & Foundry Co., St.Charles, MO; 1923
This cupola-style caboose was built on an 1890's Bx-B boxcar steel underframe, one of 240 (#1082-1171 & #1300-1449) in Santa Fe's first "Way Car" class without side doors, and the only one in its it "series"! ATSF #1413 is 36′ 9 1/4″ long, 10′ 4″ wide, 15′ 2″ high, weighs 50,000 lbs.(25 tons), and has AB brake gear and 33″ wheels.
ATSF #1413 was used for about 40 years on various Santa Fe lines. Santa Fe replaced its mainline wood cabooses with safer steel ones in the 1930s, but they remained in local and branchline use. In the 1940s, wartime steel shortages halted steel caboose construction, and ATSF #1413 was rebuilt on a new steel underframe at Santa Fe's shops in Topeka, KS, retaining its original archbar trucks. It was given a new roof of sectioned sheet tin lapped and soldered, and was painted Mineral brown (halfway between Boxcar red and Tuscan red), with black roof (later Mineral brown), silver gray interior, and dark green floor. Last lubricated by Santa Fe at Barstow, CA in 1956, it was later retired and used as sleeping quarters for railroad employees in a car repair shed at Riverbank, CA. ATSF #1413 was sold to the California Railroad & Salvage Company in Tustin, CA for scrapping in the 1970s, in very deteriorated condition.