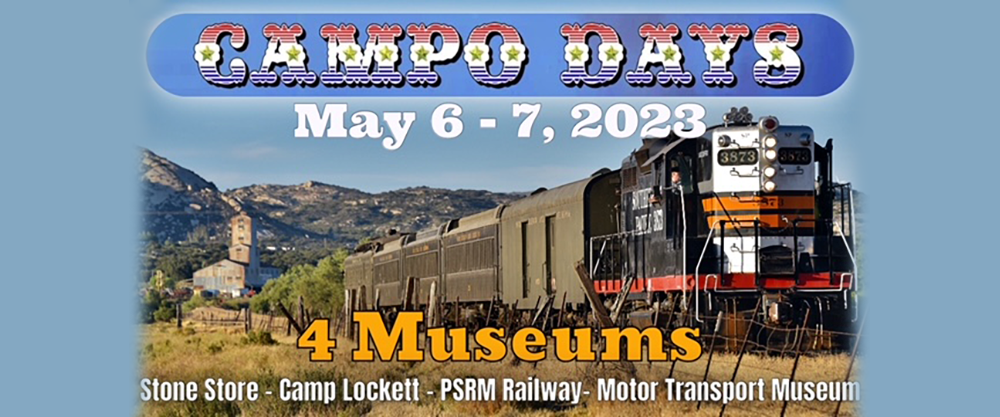 Experience the history and heritage of San Diego's East County during Campo Days May 6 & 7, 2023.
Explore four museums, including the Pacific Southwest Railway Museum, Stone Store Museum, The Motor Transport Museum and the Camp Lockett Equestrian and Event Facility, with FREE museum admission.
The Pacific Southwest Railway Museum features classic train ride excursions, vintage train displays, and regional railroad history.  The Gaskill Brothers Stone Store was a central hub of commerce, travel and cattle ranching from the 1860s through the 1920s.  Inside you'll learn of the area's rich Indigenous, ranching, and military history.  The Motor Transport Museum is housed within an old Feldspar Mill.  Learn of the area's rich mining history and enjoy a wide array of vintage transport vehicles.  Camp Lockett Equestrian and Event facility lies on the grounds of the historic military outpost of Camp Lockett.  It was the last training facility constructed for mounted calvary units in Southern California.  The museum is
dedicated to the history of the famed Buffalo Soldiers.
Come see us at the Pacific Southwest Railway Museum for this family-friendly event where we will be hosting live music, vendors, a children's bounce house, train rides, food trucks, and more!
Advanced tickets can be purchased here.  Don't miss out on our special cab rides and First Class tickets aboard out 1920s cafe/lounge car ATSF No. 1509.  First Class passengers enjoy a premium atmosphere and complimentary soft drinks, snacks, and candies.
Campo Days is hosted by VISITCAMPO.com. We invite you to check out the websites and social media pages for each museum for information and a list of events!