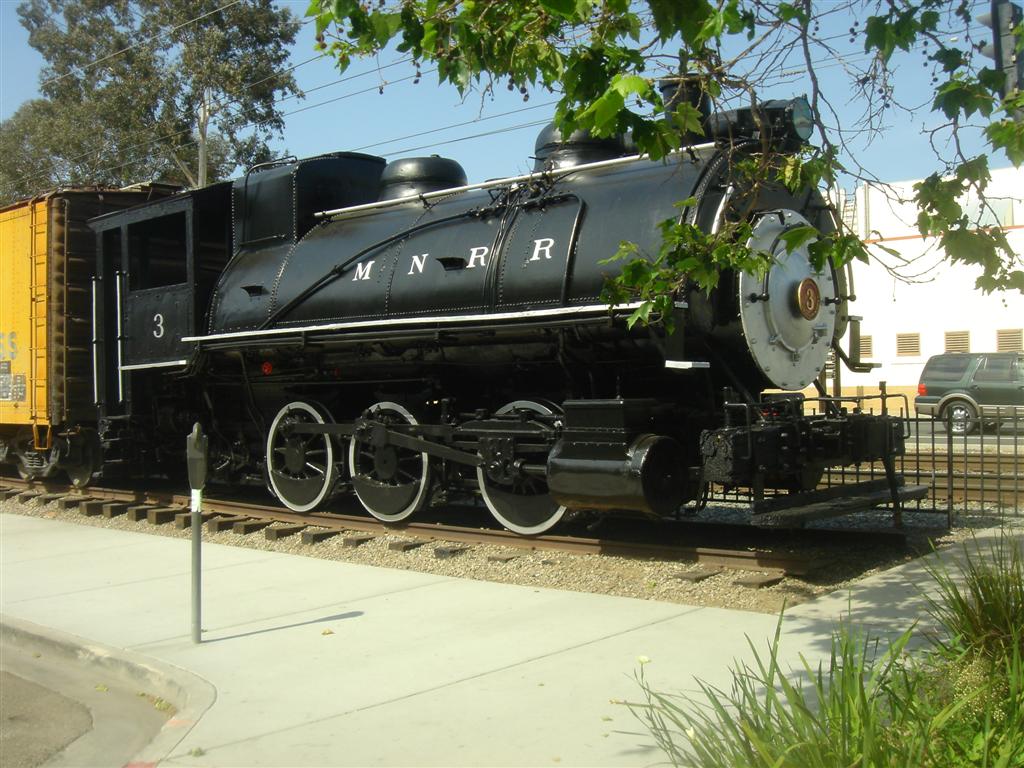 As fuel and water for this six-wheel switch engine with no pilot or trailing wheels are carried in an 800-gallon oil tank and a 2,000-gallon water tank on the locomotive's frame, "saddling" the boiler instead of in a tender, it's called an 0-6-OT saddletank engine. This gives it excellent rear visibility for switching. Builder's No. 1972, it weighs 118,000 lbs (59 tons), has 42″ drivers, 17″ x 24 cylinders, 190-lb.boiler pressure, and 15,275-lb. tractive effort.
The "teakettle" went new to the Mojave Northern Railroad, built in 1915-16 by the Southwestern Portland Cement Company from its plant at Leon (for MN builder Carl Leonhart) in northern Victorville, CA, 5.5 miles to Sidewinder valley in the Mojave desert (extended five miles to Bell in 1947 and seven more to Reserve Quarry (lime rock) in 1951). The plant, quarry, and equipment were owned by SWPC, which leased the MN until 1925, when its status was changed from "Common Carrier" to "Plant Facility". Never lettered SWPC, MN No. 3 was used mainly in the Leon cement plant area until replaced by diesels in 1957. It was painted black with silver running board, cab stripes, boiler front, and lettering: "MNRR" on its tanksides and small "3" in large cabside boxes. In 1956 the headlight, drivers, and wheel rims were painted silver and the cab numbers repainted with larger ones in small boxes. MN No. 3 pulled a flatcar with wood guard rails on a Railway & Locomotive Historical Society (Southern California Chapter) excursion on May 5, 1956, and was rarely used after that.
MN No. 3 was donated to the PSRMA on Friday, the 13th of May, 1966 by the SWPC. Because the PSRMA had no facilities of its own at that time, storage space was rented at the Orange Empire Trolley Museum (now Railway Museum) near Perris, California. MN No. 3 was taken there by the Santa Fe, and snap-tracked the final half-mile to OETM rails July 30, 1966. As MN No. 3 had a damaged crown sheet in its firebox which required major repairs and was condemned by state inspectors after April 1967 hydrostatic tests, it was not restored. Its photo was in a 1967 Trains issue. It was maintained by member Charlie Holcomb until he died in April 1977. During 14 years of storage in an open unfenced area, MN No. 3 was vandalized and had some parts stolen. In mid-1980, MN No. 3 was painted black with silver trim. The wheels and drivers were painted all-black, the tankside's "MNRR" not reapplied, and the cab numbers were repainted in larger rectangular boxes.
On January 9, 1981, MN No. 3 arrived in San Diego with another museum saddletanker, E.J. Lavino No. 10, on their own wheels after weeks of preparation at the OERM, and three days enroute on the Santa Fe. Transferred to La Mesa by the SD&AE, MN No. 3 was displayed at the north end of the La Mesa Depot Museum exhibit. An electric cable was run to it and its headlight turned on at night. Because of its condition, it was made a permanent part of the inoperable display, and in 1988 was lifted by crane, turned around, and placed at the south end of the display track. It was repainted black with silver trim (including wheel rims & tanksides "MNRR") in August 1993. It now stands only a few feet from passing San Diego Trolley LRVs.
It was repainted and lettered again in April 2009.