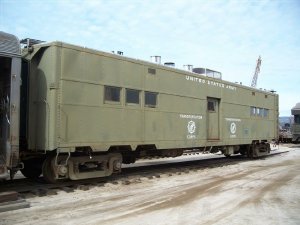 One of the few remaining "no frills" World War II Army kitchen cars, this Medical Department version is a rarity, and its Postwar conversion into a guard car with cupola makes it even more unique.
Built by American Car & Foundry Co., St.Charles, MO; 1942
To feed personnel on wartime troop and hospital trains, 440 troop kitchen cars & 60 ambulance kitchen cars were built, owned by the Defense Plant Corporation, operated by the Pullman Company, and assigned to the Transportation Corps or Medical Department of the Army Service Forces. This was an ambulance kitchen car (generally called a hospital kitchen car), with red crosses on its olive drab roof and sides, and white Medical Department lettering and caduceus insignia (a winged staff with entwined snakes).It was numbered USA #8764, 8765, or 8769. The car is 54′ 2-1/2″ long, 9′ 11-1/2″ wide, and 13′ 6-1/2″ high, and has four-wheel trucks with Hyatt roller bearings, Vapor Car steam heating, an air-pressure water system, and battery-powered lighting system. It originally weighed 77,500 lbs.(38.75 tons) and had friction bearings. In one half of the car are a work table, utensil drawers, cupboards, a refrigerator, two large sinks, water tanks, two cast-iron, coal-fired Army ranges in tandem, a wood-storage bin, and a half-ton coal box with rooftop hatch. The other half has a shower, toilet, fold-up sink, & water tanks, and originally had a bread locker and meatcutting tables.
In 1954, this was one of three hospital kitchen cars converted to guard cars at Fort Holabird in Baltimore, MD. The toilet, sink, a wardrobe, and six fold-up cots were installed. A glass-enclosed cupola with sliding side windows was built atop the center of the car. It was repainted olive drab with a silver roof; lettered for the Transportation Corps with winged wheel insignia; and numbered USAX #G-10. The car transported and housed security detachments guarding shipments of hazardous material, and served on ammunition trains between the Naval Ammunition Depot at Hawthorne, NV and the Naval Weapons Station at Port Chicago, CA. Although always an Army car, its lettering was later changed to DODX #G-10 (for Department of Defense). It was retired in 1966, declared surplus, and bought at a 1973 sealed-bid auction in Hawthorne by PSRMA member Walter Barber, who then resold it to the museum at the same price.
Shipped to San Diego on its own wheels at a cost of $816.43, and fire-damaged enroute, DODX #G-10 arrived at the museum's Miramar NAS storage site January 14, 1974. Restored by museum workers, it was painted dark green with silver roof and renumbered DODX G-10, but not relettered. Displayed at the La Mesa depot, it was used on several SD&AE El Cajon branch museum trains from May 1982 to July 1983. It served as tool car on the PSRMA's July/August 1983 "Great Freight" to Campo; on work trains; and was a passenger car on the first 1986 Miller Creek trains. Refurbished in April 1987, the car was repainted olive drab with silver roof. Its Army lettering and Transportation Corps insignia were reapplied in February 1988, but not its number. As USAX #G-10 again, the car is being temporarily used as a restroom and refreshment car on museum excursion trains. In the future it will also house displays of military railroading.
1993 Pacific Southwest Railway Museum Association. W. Schneider