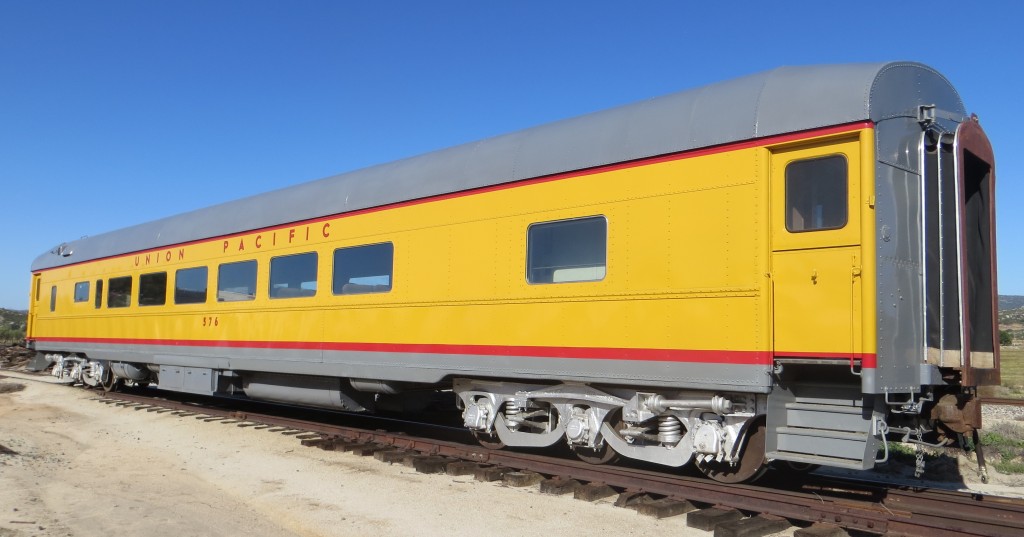 A depression-era heavyweight, this car was modernized after World War II to operate with the UP's newer lightweight equipment.
Built by the Pullman Car & Mfg.Corp., Pullman, IL; January 1931
One of ten built to UP Specification 326, Floor Plan 234-CB-21704, drawing 274-CB-22795, Lot #6394, this car now weighs 164,500 lbs. (82.25 tons), is 82′ 5 1/2″ long over couplers, 10′ 3″ wide, and 14′ high. It has vestibules with dutch doors at both ends, rubber tile floors, six-wheel trucks, Timken roller bearings, and 36″ wheels.
Initially weighing 159,200 lbs. (79.6 tons) and in Pullman green as UP #1266, it had 23 windows per side, a railroad roof, Vapor Car heating, conductor's desk/bench, seated 60 in its main compartment (56 in reclining/revolving seats) and ten more on three sofas in a smoking room next to the men's toilet. A women's toilet & lavatory were at the other end. Pullman air-conditioning was added in 1935.
In 1948, UP #1266 was one of 22 cars modernized at UP's Omaha, NE shops, making it similar to the newer lightweight streamlined cars. It was remodeled to Floor Plan 237-CB-24586, with 10 mostly wide- view sealed windows with adjustable blinds per side, and 22 double reclining/revolving seats, all with adjustable footrests. Overhead baggage racks with individual light switches and blue night lights were added, plus luggage locker, mirrored restrooms, and new conductor's desk with rolling swivel chair. It received streamlined roof skirting and Safety Car RE-7 steam-ejector air-conditioning, which works only when coupled to station or train steam lines. The car was painted Armour yellow with Harbormist gray roof and under- frame, red stripe and lettering, and renumbered UP #576. But its two vestibules gave away its age: new cars had only one. Its seats were later arranged in facing sets unable to revolve, making the footrests unusable. It served mainly on secondary UP streamliners. When rail passenger service declined in the 1960s, UP #576 was removed from service and stored in Los Angeles, CA. It was bought by the PSRMA for $1,250 plus tax July 13, 1969, and moved to Miramar Naval Air Station in San Diego by the Santa Fe the next day.
UP #576 was cleaned, repaired, and in mid-1977 repainted Pullman green, because no supply of the Armour yellow paint was available. In late 1980 it was again refurbished and repainted Armour yellow. UP #576 was moved to La Mesa depot in September 1981, exhibited, and used on the La Mesa Cannonball May 23, 1982, the museum-operated first passenger train on SD&AE's El Cajon branch in 54 years. It went to Campo in July 1983 on the museum's first "Great Freight", on which it unexpectedly served as an overnight coach. It was used on the first museum SD&A excursion trains starting January 4, 1986.  In 2013, UP #576 received some much needed body repair and a fresh coat of Armour yellow paint and is now serving as one of the first class cars on the Museum's North Pole Limited trains.
Four similar cars survive, including UP #582 and #577 which was made into the Solana Station Restaurant in Solana Beach, CA.