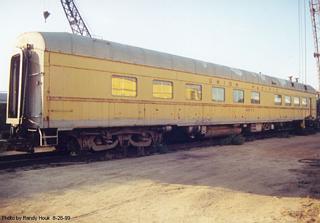 This heavyweight car is an example of how American railroads rebuilt, modernized, and modified old cars to prolong their service lives.
Built by The Pullman Car & Mfg. Corp., Pullman, IL; December 1929
Originally painted in Pullman green, numbered UP #326, and placed in service as a 36-seat dining car, this car was built to Plan 7280, Lot 6251 (five cars), and floor plan 234-CB-21755. It had a kitchen with side service door, ice-cooled refrigerators, and rooftop ice hatches; a pantry; a dining room with six 4-seat and six 2-seat tables; and a small entry area at the steward's end. It originally weighed 173,800 lbs. (86.9 tons), with Vapor Company steam heat and six-wheel trucks. It's 82′ 5″ long over couplers, 9′ 11 7/8″ wide over eaves (originally 10′ 3/8″), and is 14′ high. Pullman air-conditioning was added in 1932, and the car was renumbered UP #3626 in September 1940.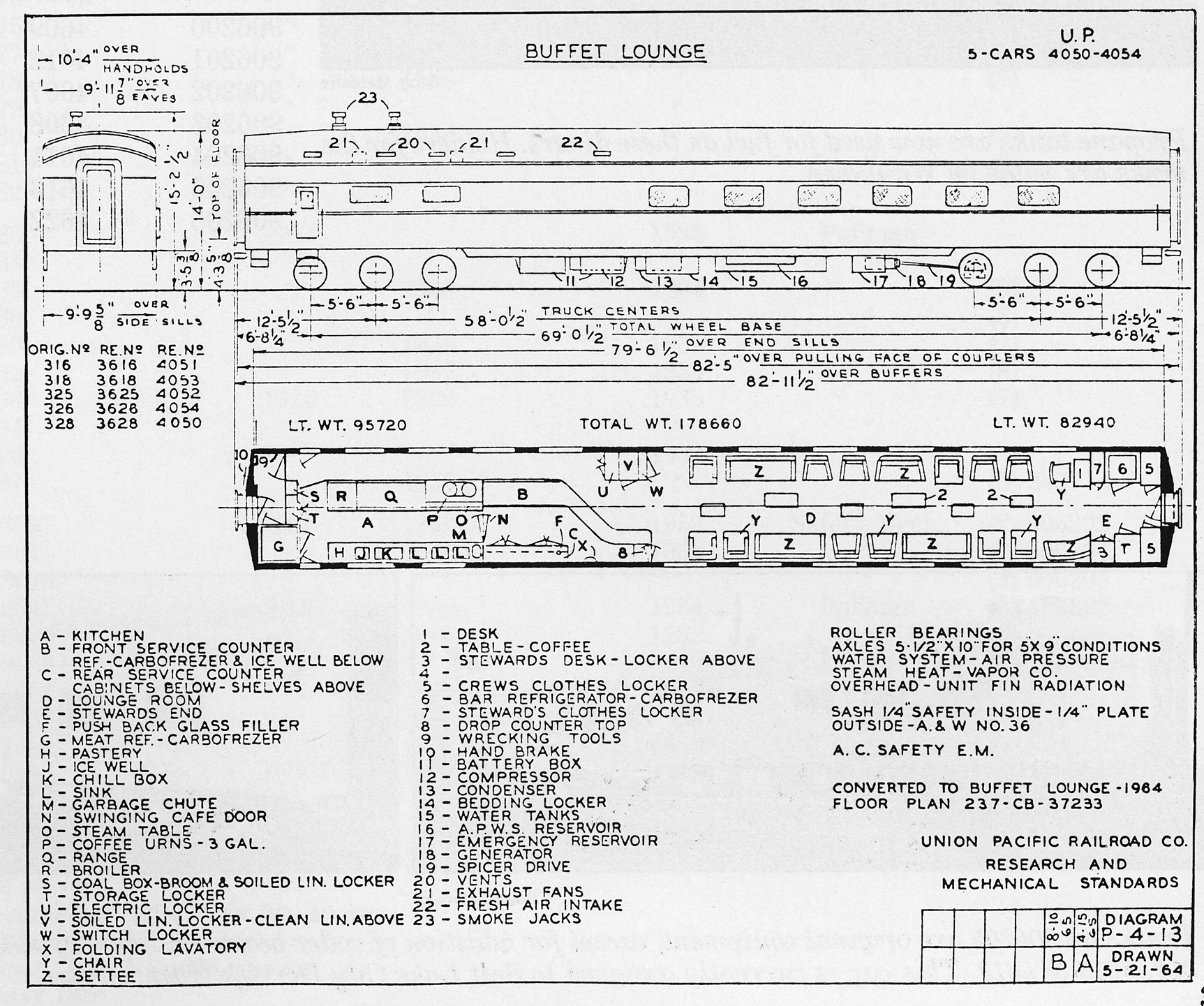 UP 4054's car diagram as rebuilt in 1964.  Scan courtesy Don Strack of UtahRails.net
In May 1964, it was modernized at Union Pacific's Omaha, NE shops to floor plan #237-CB-37233, emerging as a streamlined-looking modern Armour yellow buffet/lounge car, with Harbormist gray underframe and roof, and red stripes and lettering. Renumbered UP #4054, it weighs 178,660 lbs.(89.33 tons). Tight-lock couplers, Hyatt roller bearings, Safety E.M. air-conditioning, roof skirting, new windows, and adjustable window blinds were added. The galley was rebuilt with stainless-steel equipment, and the pantry converted into a service counter. The dining room became a lounge, with five settees, twelve armchairs, six coffee tables, and writing desk with chair. The entry area at the steward's end remained. Most of the settees & lounge chairs were later removed, six 4-seat tables reinstalled, and the car designated a buffet/diner.
UP #4054 was assigned to the Kansas City-Denver-Portland secondary streamliner Portland Rose, running as a cafe/lounge to La Grande, OR, where it was removed from westbound #17 after dinner, restocked, and placed on eastbound #18 before breakfast. It was later cut back to a Denver-La Grande run as a buffet/lounge, and by 1970 was only running between Portland and Pocatello, ID serving cafeteria-style meals, due to schedule changes and light patronage. In 1971 AMTRAK took over and drastically cut rail passenger service in the USA, and UP #4054 was retired and stored in Los Angeles by the Union Pacific.
In May 1972, O. Charles Varnes purchased the car for planned excursion service with Overland Rail Travel. It did not work out as planned, and in December 1980 Varnes donated UP #4054 to the PSRMA. Briefly stored at San Diego's Miramar Naval Air Station, it was moved to the La Mesa Depot in September 1981 and placed on exhibit. On May 23, 1982 it was a snack car on the La Mesa Cannonball, the PSRMA-run first passenger train on the SD&AE's El Cajon branch in 54 years. It served as a crew diner on the museum's "Great Freight" to Campo in July/August 1983.
UP #4054 is on display at Campo, and is occasionally used on museum trains in cool weather only, as its air-conditioning does not operate well at the slow speeds of museum trains, and it has sealed windows. It will be restored to its 1964 appearance as time and funds permit.
1993 Pacific Southwest Railway Museum Association. W. Schneider