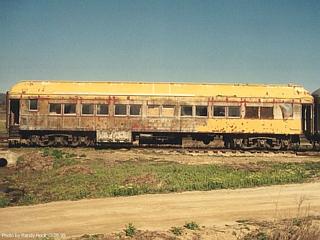 This Harriman arched-roof coach is a fine example of a unique type of car widely used in the first half of the 20th century by the SP and other major railroads controlled by Edward H. Harriman, and by the SP-influenced SD&A/SD&AE, on which it might have been used.
Built by The Pullman Car & Mfg. Corp., Pullman, IL; April 1914
A Class 60-CC-2 steel heavyweight car, it was built to Plan 2663, Lot 4172, Specification CS-237, per Order P-201 of June 2, 1913. It has a concrete floor, vestibules at both ends, wood doors, Vapor Car heating, electric lighting, and had two small restrooms. It was originally Pullman green, with 56 plush upholstery walkover seats, two double seats, four-wheel trucks, and weighed 128,100 lbs. (64.05tons), increased to about 141,800 lbs. in 1936. Its present weightis 133,500 lbs. (66.75 tons). It is 67′ 8 3/4″ long (59′ 10″ over end sills), 9′ 11 7/8″ wide, and 14′ high.
This car, one of 20 ordered by SP for three Texas subsidiaries, was one of 12 sent to the Galveston, Harrisburg, & San Antonio Railway costing $11,184.08 each. Delivered in April 1914, it was numbered GH&SA #554. On March 1, 1927 the GH&SA was merged into SP's Texas & New Orleans Railroad, and GH&SA #554 became T&NO #554.
On July 25, 1931, T&NO #554 was transferred to SP's Pacific lines, valued at $5,520, and on March 24, 1932 renumbered SP #2693. On November 30, 1933 it was paper-transferred to SP subsidiary Arizona Eastern Railroad, which owned 437 miles of track in Arizona leased & operated by SP, retaining its SP lettering. It was outshopped at Sacramento May 28, 1936 with ice-activated air-conditioning added, in which air is blown over nine 350-lb. ice blocks in compartments under the car and then into it by axle-driven fans. Its 14 windows per side had unusual double frames & panes added, hinged to enable the inside ones to be pulled in and up. Six-wheel trucks were also added to handle the extra weight. It was assigned to the Oakland- Portland Shasta Limited. On January 10, 1942, reclining seats with rigid footrests were installed in Los Angeles. Probably repainted two-tone gray in the early 1950s, it was paper-transferred back to the SP when the AE was merged into SP September 30, 1955. Repainted silver-gray and lettered "Chair Car" in silver, the classic coach was used in southern California until retired in October 1956.
On February 25, 1957 SP #2693 and SP steam locomotive #2353 were rolled on snap-track into the California Mid-Winter Fairgrounds in Imperial, CA and were dedicated by SP to "…the people of Imperial County" on March 3rd. The car was modified into a concessionaires' lounge, with a restroom removed and false acoustic ceiling added. It deteriorated during the next 29 years, and on November 13,1984 the 45th District Agricultural Board (the fair operater) voted to donate the exhibit to the PSRMA. Formal transfer was made a year later on November 25, 1985. In July 1986, SP #2693 was trucked 68 miles west to Campo, where repairs were made and the seats, double windows, and false ceiling removed, and roof painted a protective yellow. When time and funds permit, SP #2693 will be restored to its post-1942 appearance, with seats & double windows reinstalled, and repainted Pullman green for occasional museum train use.
1992 Pacific Southwest Railway Museum Association. W. Schneider