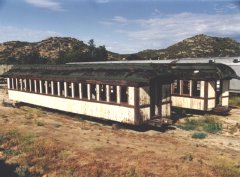 These two wooden coaches were used in mainline service until the SD&A began acquiring new steel cars in 1922. Subsequently they were gradually retired to maintenance and engineering service, and finally de-trucked for use as depots, bunk houses, storage sheds and dwellings along the line. Wooden passenger car production in the United States ended in 1913.
#239 (ex-Southern Pacific #51): Built by Gilbert & Bush, Troy, New York; 1875
#240 (ex-Southern Pacific #195): Built by Barney & Smith Car Co., Dayton, Ohio; 1889
These cars were two of five stored for many years at Jacumba, CA., 27 rail miles east of Campo. Originally all five of the car bodies were to be acquired, but costs and space availability at Campo dictated down-scaling this to the two cars that were the most historic and in the best overall condition.
Both cars were trucked from Jacumba to Campo on February 2, 1995 by Paul Goldstein.
1995 Pacific Southwest Railway Museum Association., D. Pennick