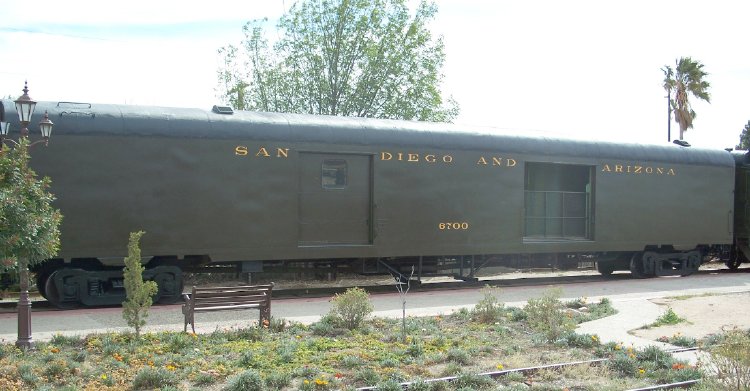 This modern ex-SP car is the museum's only full baggage car, and was acquired to serve passengers on the museum's SD&A Railway.
Built by St.Louis Car Company, St.Louis, MO; December 3, 1960
This all-steel round-roof lightweight car was the last of 100 cars in the Class 66-B-1 70-foot "economy baggage" cars built for the Southern Pacific in 1960. It's 70'1″ long over couplers, 66'2″ long over end sills, and its interior is 65'7″ long. Its weight is 86,740 lbs. (43.37 tons). It has a load limit of 65,000 lbs. (32.5 tons), 4-T-1 Timken roller-bearing trucks, & windowless end doors. A brake wheel at the rear end can be operated from both inside or outside. It has two sliding wooden doors on each side, the forward single doors being 6′ wide and the double doors toward the rear 8′ wide (4′ each). It has type F tight-lock couplers, an AC-1 brake system, 33″ freight car wheels, Vapor steam heat, and had a gravity feed water system. It has a battery box and a belt on one axle for connection to a generator. The car originally had a 23″ diaphragm on each end, but now has only one. There are no windows on the car except those in its side doors.
SP # 6700's exterior was painted dark gray throughout its railroad service life, with silver-gray lettering. The interior was seafoam green, with a Maroon varnished wood floor.
The car was bought by the SP for $ 33,684.34 and served on many SP trains, including the Los Angeles-San Francisco Coast Daylight. It was retired about 1986 and stored in the West Oakland, CA yards, where it was bought from the SP by a private individual. In 1987 it was purchased by Rod Basich, former Vice President of the El Toro Materials Company, and also President of the local chapter of the Private Passenger Car Association. He had the car moved to East Los Angeles, and used it for the storage of parts for modern cars.
Knowing the SDRM had long wanted a baggage car to replace the USAX guard car G-10 on museum trains as a service car, museum trustee Bill Niedrich located SP # 6700 and donated $ 5,000 to the museum to purchase the car, which was done in November 1994. After being emptied of its contents, SP # 6700 was taken to San Diego by the Santa Fe on April 12, 1995, and to Campo by the SD&IV in May 1995.
Following months of roof & other repairs by museum volunteers, the car was painted Pullman green, redesignated SDA # 6700, and then placed in service on the museum's SD&A trains as a refreshment and restroom car in December 1995. Other work on SDA # 6700 included lettering, replacing its missing diaphragm, and adding a generator to provide electricity for lights and future service equipment.
Feb. 1998 Pacific Southwest Railway Museum Association. W. Schneider