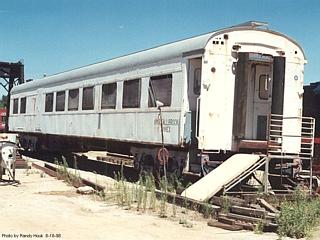 This military veteran wore Army green, Air Force blue, & Navy white, conducted inspection tours, was shot, and retired four times!
Built by American Car & Foundry Co., St.Charles, MO; about June 1945
This steel car has 6-wheel trucks, Hyatt bearings, Miner brakes, tight-lock couplers, one vestibule, a side door, a linoleum floor, and nine 60″ x 33″ window openings per side. It's 84'6″ long, 10′ wide, 13'6″ high, and weighs about 164,000 lbs. (82 tons). One of 100 Hospital Unit cars in ACF Lot #2792 built for the Army Medical Department for $49,500 each to transfer casualties from hospital ships to medical centers, USA #89437 carried 36 patients and attendants; had two small roomettes for an officer and nurse; a tub/shower; kitchen with coal-fired range (the coalbox filled from outside, and refrigerator iced through a rooftop hatch); ice-type air-conditioning; and receiving room with desk, sterilizer, and side doors for litter cases. It was painted Pullman green (later Olive drab) with black battery boxes and roof; and cream, beige, and light brown interior. Red crosses in white squares were on its sides and roof, and Medical Corps caduceus insignia on its sides in white.
USA #89437 was rebuilt in 1962 for the Air Force's Strategic Air Command as a Special Purpose car with living quarters for 18 men in partitioned cubicles, with washroom and laundry facilities. Its side doors were deleted, and new air-conditioning, sealed windows, 220-volt electric system, accoustic ceiling, fire alarms, and other items installed. It was painted Air Force blue, with silver roof and black underframe, and lettered DAFX #89437 in white, with the S.A.C. shield insignia on its sides. It housed crews of Bomb Score trains, used to radar-score the accuracy of B-52 bombers, until it was retired in 1970 and stored at Williams AFB near Chandler, AZ.
In 1972 DAFX #89437 was one of 11 such cars acquired by the Naval Weapons Station at Seal Beach, CA, and was sent to the NWS Annex at Fallbrook, CA. It was stripped, had a loading door cut on one side, was painted white (retaining its silver roof and black underframe), not numbered, and used for storage. In 1976, it had red and blue stripes painted on its sides, a partition installed, and 68 theatre seats installed back-to-back down the center, 52 in the main cabin, 16 in the smoking cabin. It then took civic groups and dignitaries on U.S. Bicentennial Commemoration tours of the Annex. It was later repainted white and lettered "NWS Fallbrook Annex" in black. Surplus in 1980, it was donated to the PSRMA March 27, 1981, costing $100 in administrative charges, and stored at the Fallbrook Annex.
Appraised at $13,000 in February 1984, the car was traded to the Southwestern Portland Cement Company, trucked to Victorville, CA and used on tours of SWPC's 15-mile Mojave Northern Railroad and plant area. Re-donated to the PSRMA in 1985, it was taken to San Ysidro, CA in May 1986 by the Santa Fe and SD&IV, and stored in the SD&IV yard, where most of its windows were shot out. It went to Campo on February 28, 1987 on the museum's "Great Freight II". DAFX #89437 has been cleaned, its seats and glass removed, and windows boarded up. It will be converted into an open-window Sightseeing car, and painted Armour yellow for use with the museum's former UP cars. It will be re-numbered #351.
1992 Pacific Southwest Railway Museum Association. W. Schneider