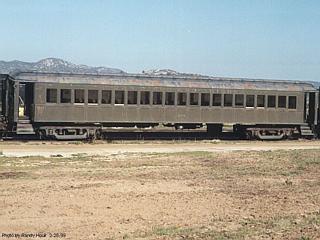 This classic commuter coach carried passengers on steam, electric, and diesel-powered trains, serving 59 years in suburban New Jersey and then beginning a new "retirement career" in California.
Built by The Pullman Car & Mfg.Corp., Pullman, IL; 1925
A low-roof 84-passenger closed-end steel commuter car 70′ 6″ long with rollover seats, this coach was one of 50 in Lot #4837 built for Delaware, Lackawanna, & Western Railroad's northern New Jersey commuter service. Numbered DLW #311, it was used on steam trains until converted in 1929 at the ACF's Berwick, PA plant into a non- powered trailer car for use on Lackawanna's newly DC-electrified Morris & Essex division. Motorman's controls & Pyle headlight were installed at one end, and a rooftop jumper-line connection at the other to a semi-permanently coupled electric motor car. Renumbered DLW #2211, it weighed 109,000 lbs. (54.5 tons) after conversion. It had a composite floor for easy cleaning, a small toilet, window shades, spherical-globe light fixtures, four small fans near the ceiling, DL&WRR 4-wheel trucks, and was painted Pullman green.
Lackawanna's electric operations began September 3, 1930, and for 54 years DLW #2211 worked on the lines from Hoboken to Montclair, Summit, Dover, and Gladstone in a service of legendary reliability and performance. On October 17, 1960 the Lackawanna and the Erie Railroad, both bankrupt, merged to form the Erie-Lackawanna, and DLW #2211 was renumbered EL #3211. "Erie" was painted on its letterboards to the left of the existing "Lackawanna", giving them an off-center look. The Erie-Lackawanna became part of the U.S. government-owned Conrail April 1, 1976. On December 10, 1979, state- owned New Jersey Transit became owner of the commuter lines, though Conrail continued to operate the trains. The car's interior was repainted tan with brown ends & seat frames, its rattan seats were replaced with red/orange vinyl ones, & new blue window shades were installed. Its exterior was not repainted. On August 24, 1984 NJT switched over to a new AC-current system with new "Jersey Arrow" cars, and NJT #3211 (still lettered Erie-Lackawanna) was retired and stored at Mahwah, NJ, where some of its parts were stolen.
In January 1985 NJT #3211 and five motor cars were purchased by the PSRMA at $2,000 each for use as coaches on its SD&A excursion trains. Their age, sturdy construction, openable windows, & roll- over seats made them ideal for this vintage service. The cars left Mahwah on March 12th and arrived in San Diego on May 29th, delayed by mechanical problems and vandalism. Their 3,536-mile journey was donated by Conrail, Missouri-Pacific, Union Pacific, and Santa Fe.
Stored in the San Diego Trolley yard for 23 months, NJT #3211 was cleaned and had fittings not essential for museum service removed by museum volunteers. Brought to Campo February 28, 1987 on "Great Freight II", its windows, frames and seats were removed, repaired, & replaced, and mechanical repairs made. It was repainted Pullman green with gold lettering & cream interior, renumbered SDA #255, and installed on the museum's SD&A Railway subsidiary in April 1988.
1992 Pacific Southwest Railway Museum Association. W. Schneider