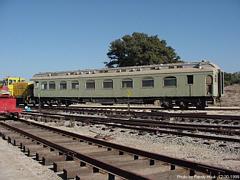 This historic car was acquired for the use of John D. Spreckels, builder and first president of the SD&A, and a leading developer of San Diego.
Built by The Pullman Car & Mfg.Corp., Pullman, IL; February 14, 1910
Built to Plan 2115B, Lot 3234, costing $16,913.62 as Southern Pacific Class 72-0 buffet/smoker/observation car SP #1733, this wood car has six-wheel wood-plated trucks, inlaid hardwood paneling, colored glass upper windows, and Vapor Car Co.heating. It's 72′ 6″ long, 10'wide, and 14′ 9″ high. It originally had both gas and electric lighting, weighed 127,900 lbs.(63.95 tons), and seated 40 (25 in the smoking room).
On December 18, 1919 the SD&A agreed to purchase SP #1733, then in the Sacramento,CA area. It was delivered to the shops of the SP-controlled Pacific Electric Railway in Torrance, CA December 23, 1920 and converted into a business car for SD&A president John D.Spreckels, with purchase date of January 1922. The car received a Commonwealth steel underframe, increasing its weight to 146,500 lbs.(73.25 tons). The interior was rebuilt, with a solarium lounge; office; two bedrooms with sink, toilet, and connecting tub bath; dining room; stall shower; galley; pantry; and steward's quarters with berth and toilet. It was numbered SDA #050, and named Carriso Gorge after the awesome SD&A completion site, now spelled "Carrizo". The SD&A paid $38,952.50 for the car and conversion costs.
In 1923 the car was used to film Carriso Gorge, the Magnificent, which new SD&A president Armand T. Mercier (Spreckels retired in 1923) showed in its lounge with other films on a publicity trip to New Orleans and other cities. He also used it on a 1928 Seattle trip. In February 1933 the SP acquired the SD&A, renamed it San Diego & Arizona Eastern, and relettered the car SDAE #050 Carriso Gorge. Little used, it was placed on sale by SD&AE president F.L. Annable in 1937 but never sold. Carriso Gorge was leased to the SP August 7, 1940 and renumbered SP #101 Tucson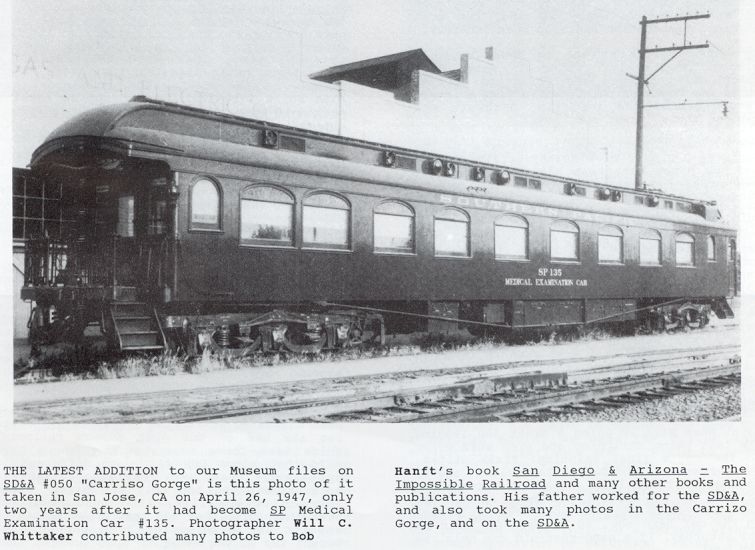 On April 13, 1945 it was converted into a medical examination car, and renumbered SP #135. Its furnishings and some walls were removed, medical facilities installed, the interior painted Hospital green, and exterior Pullman green. Operated as far east as El Paso, in 1951 its ownership was transferred to the SP, and it was assigned to Dr. Sydney Talbot.
In 1955 SP donated SP #135 (repainted gray) and SDAE locomotive #104 to the San Diego County Fair. Members of the Railway Historical Society of San Diego raised $1,600 to place them in the Del Mar fairgrounds after their arrival September 2, 1955. The exhibit was opened June 24, 1956, and the relettered SDA #050 Carriso Gorge staffed at fair time for 25 years by the RHS, which became defunct in the 1980s. In February 1982, the 22nd District Agricultural Board (the fair operator) donated the exhibit to the PSRMA due to its deteriorated condition, caused by sun, wind, ocean air, rain, and lack of maintenance. The equipment was moved to Solana Beach February 15, 1983 at a cost of $10,000, taken to San Ysidro free by Santa Fe and SD&AE, and brought to Campo in August on our first "Great Freight". Now in the carbarn, SDA #050 Carriso Gorge has been cleaned and repaired, had many walls carefully stripped of paint to expose the inlaid woodwork, and an exhibit installed in its solarium. Because of the tremendous amount of time, effort, and money required a major fund-raising campaign is being organized to restore this major San Diego historical artifact to its 1922 operating appearance.
1992 Pacific Southwest Railway Museum Association. W. Schneider