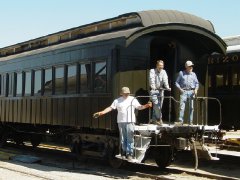 This wooden combine is the oldest piece of operable rolling stock owned by the museum. It has "Jim Crow" racial segregation dividers, and was used in making many "period" motion pictures in the mid-20th century.
Built by The Pennsylvania Railroad, Altoona, PA; 1886
Originally PRR 3736, a Class PF coach (PRR's first coaches with steam-heat piping), this open-platform car had yellow poplar exterior panels with edges covered by molding, and richly detailed white or golden oak interior wood. Its clerestory windows had 150 aquamarine-colored 5″ x 5″ cast glass panes featuring a 3-dimensional rosette design. It originally had a water cooler, five Adams & Westlake single-center nickel-plated oil lamps, one restroom, and 15 windows per side. The car had red plush upholstered walkover seats, a wood underframe with truss rods, and wood beam 4-wheel trucks. It weighs about 53,000 lbs. (26.5 tons), and is 46′ 10″ long (53′ 6″ with platforms), 9′ 4″wide (9′ 10″ at eaves), & 10′ 5 5/8″ high. Including a bench seat in an alcove designed for a stove, it seated 58 passengers as built. It's a sister of restored Tuscan red PRR coach #3556 (built in August 1886), displayed at the Railroad Museum of Pennsylvania in Strasburg, PA.
This car's PRR history is unknown. In May 1916, by which time the Class 1 railroads were forced by federal law to retire wood passenger cars, it was sold by car broker E. H. Wilson & Company, and sent from Birmingham, AL to the Dardanelle & Russellville Railroad, a five-mile Arkansas shortline opened in 1883 and still in business. Numbered D&R #10, it had a "Jim Crow" racial segregation divider installed roughly in the middle of the car to comply with Arkansas railroad segregation law, with eight windows per side in the "white" section, and seven in the "colored" section. On March 5, 1924, a fire that began in the depot at North Dardanelle burned one of the car's sides so badly that it needed $972.16 worth of new siding, windows, curtains, and upholstery.
D&R #10 was retired on October 31, 1936 and sold to the six-mile Rockdale, Sandow & Southern Railroad in Texas, which like the D&R was then owned by the McAlester Fuel Company of McAlester, OK. (The RS&S originally transported lignite from a mine to an interchange with the International-Great Northern Railroad. Sold several times, it still operates today, as a switching road owned by RailAmerica, interchanging with the Union Pacific at Marjorie, TX.) The 1936 sale price for the ancient vehicle was $125 plus $625 to rebuild it into a combination passenger and baggage (combine) at the D&R's North Dardanelle shops. A baggage room/coach wall replaced the racial divider, and a new segregation wall was added, creating an eight-seat "colored" section next to the baggage room and 22-seat "white" section. Sliding baggage room doors were installed, and five baggage room windows on each side were paneled over. Numbered RS&S #3, it was sent to Marjorie in November 1936. Texas laws required that all railroads offer passenger service at least once daily, except Sunday, with every train segregating the races.
In February 1945 RSS #3 (with its lettering removed) was sold to 20th Century-Fox and sent from Rockdale, TX to the West Los Angeles (Century City) studio, arriving July 24th with D&R #14. It was mis-identified as D&R #13, a number D&R never had. Appropriately relettered "Pennsylvania Railroad" for its first role, it was used from 1946-72 in many films, including Centennial Summer, The Raid, Love Me Tender, The True Story of Jesse James, The Second Time Around, Walls of Jericho, Powderkeg, and the Nichols and Bearcats TV series. At some point Fox removed the ceiling lamps and other fixtures. Moved to a Malibu canyon ranch in the late 1950s, it was sold to Short Line Enterprises for tourist railway use in 1972.
RS&S #3 (listed as D&R #13) and D&R #14 were traded in April 1976 to the PSRMA, trucked to Poway, CA June 7-8, and displayed for seven years at Old Poway Village, where roof and other repairs were made. Trucked to Campo February 10, 1983 and placed in the carbarn on the 12th, they were the first museum passenger cars there. It was finally identified as RS&S #3 in 1988.
The car is being restored to its 1936-1945 Jim Crow years, when it operated as the Rockdale, Sandow & Southern's sole passenger car. Exterior restoration will be completed by the end of 2008, carried out by the Museum's 4-man restoration crew: Harold Whalen, Frank Stites, Bob Gerdes, and Ted Kornweibel, Superintendent of Restoration. The car's exterior was painted in September 2008 by master-painter Mark Gerdes. Interior restoration, including reupholstered seats and replica ceiling oil lamps, was finished in 2009. A $3,000 grant from the National Railway Historical Society, awarded in 2008, will help pay for recovering the seats and casting 90 replica pieces of clerestory glass. Now finished, the car is on view in the Display Building, accompanied by the Museum's African American railroad heritage display, the most comprehensive photographic exhibit about black railroaders in the country.
1993 Pacific Southwest Railway Museum Association. W. Schneider
2008 update by Ted Kornweibel