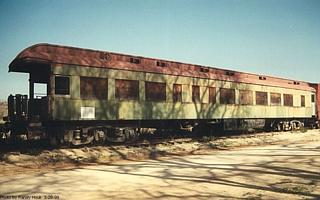 This classic open-section heavyweight is typical of those operated by Pullman throughout the USA in the "golden age" of railroading.
Built by The Pullman Car & Mfg.Corp., Pullman, IL; December 1915
A steel square-poster with NM&SC Co. six-wheel trucks patented June 18, 1914, Pullman bearings, and railroad-style roof, Commandant was built to Plan 2521B, Lot 4353, in a series of ten, all named after military titles & painted Pullman green. (In 1914 ten similar cars were built to plan 2521A for the Santa Fe, one named San Diego!).
Commandant has ten open sections, each with upper and lower berth. By day each lower berth was converted into two facing seats, the forward-facing one assigned to the lower-berth occupant, who paid a higher Pullman fare. (Pullman passengers required both a first- class railroad ticket for travel, and a Pullman ticket for Pullman sleeping-car space). The upper berths were swung closed during the day, and folding section-divider panels (used at night) stored in them. Pullman porters made up the berths in the evening and closed them in the morning. Commandant has large restrooms, and its wood interior has detailed pin-striping and painted ornamentation. It has an original upper-berth ladder, Pullman coathangers, and other accessories, a vestibule at the front end, and a rear lounge with open observation platform and recessed circular light fixture.
The Commandant was owned and operated by the Pullman Sleeping Car Company, and for years assigned to the Southern Railway. Retired in December 1944, Commandant was sold to 20th Century-Fox Films and kept at Fox' West Los Angeles lot until all its rail equipment was moved about 20 miles west to Malibu Canyon in the late 1950s. It may have been used for interior scenes in Berlin Express and Some Like It Hot, with Marilyn Monroe, Tony Curtis, and Jack Lemmon. It was rarely used in film-making, and not modified or altered much. It was kept well-maintained and its interior is in good condition. It may have been painted gray and then dark green with black roof.
In January 1972, 20th Century-Fox sold all its railroad equipment to Short Line Enterprises for tourist railroad use. In August 1973 Commandant was sold for use in Railroader Restaurants, but it was never modified or used for that purpose. It was stored on a Union Pacific industrial siding in Mira Loma,CA, just west of Riverside.
The Commandant was purchased by the PSRMA in early 1984 with funds donated for that purpose by museum members John and Marlene Ashman and the Reverend Art Dominy. They also provided the money needed to move it on the Union Pacific to Los Angeles. From there it was moved free by the Santa Fe to San Diego, and by the SD&AE to the Grossmont industrial siding in La Mesa, where it was cleaned up by museum volunteers. In February 1987, the Commandant was taken to San Ysidro by the SD&IV, and to Campo on the museum's "Great Freight II" February 28th. In 1990 its roof was 1987 movie A Time of Destiny, with Timothy Hutton & William Hurt.  Restoration will come when time and funds permit.