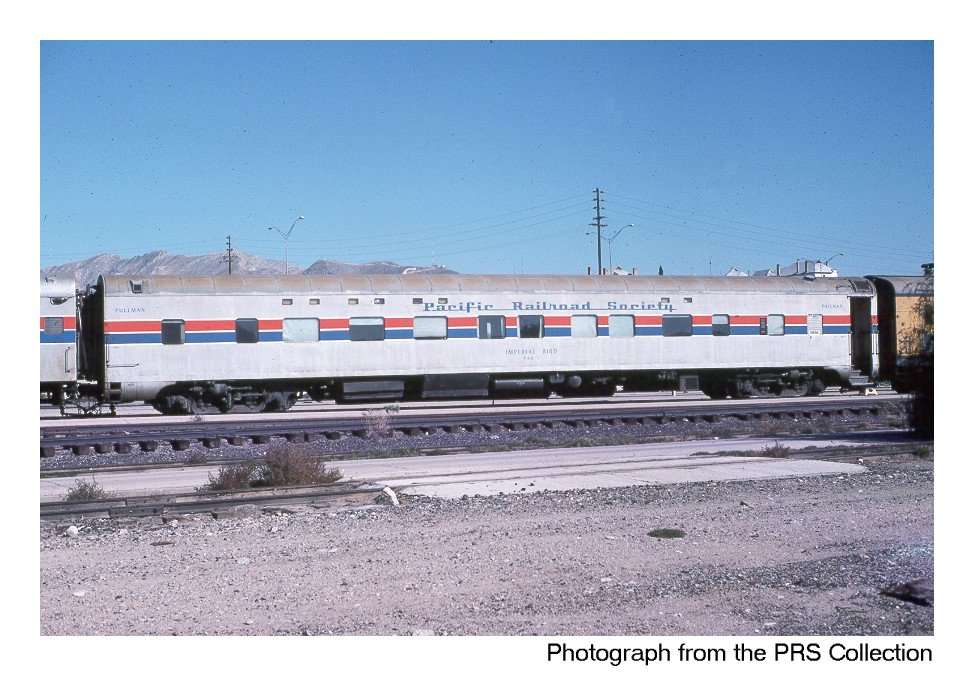 Please welcome the newest addition to the Association's collection, Imperial Bird!
Built in March of 1942 for the Pullman Company by Pullman-Standard Car Manufacturing Company, Imperial Bird was one of 31 cars built with four double bedrooms, four compartments, and two drawing rooms for use on various railroads across the country.  This bedroom arrangement was particularly popular, offering some of the most deluxe accommodations of that era.
Imperial Bird (lower right) shown as delivered in two tone Pullman Grey livery. Taken in 1949 at East Los Angeles.
In January of 1946, Imperial Bird was purchased from Pullman by the Union Pacific for use on its named trains like the City of Los Angeles as well as several of the UP's Overland Route trains.  The car was painted UP Armour Yellow in March of 1952 and saw daily service on the UP.  In the winters between 1955 and 1959, the car was assigned to the Illinois Central's City of Miami train and painted in IC's iconic chocolate and orange paint scheme. As evidenced by sanding of the exterior for paint, the car appears to have been repainted from UP's livery to IC's livery and then back to UP's each time the car was reassigned.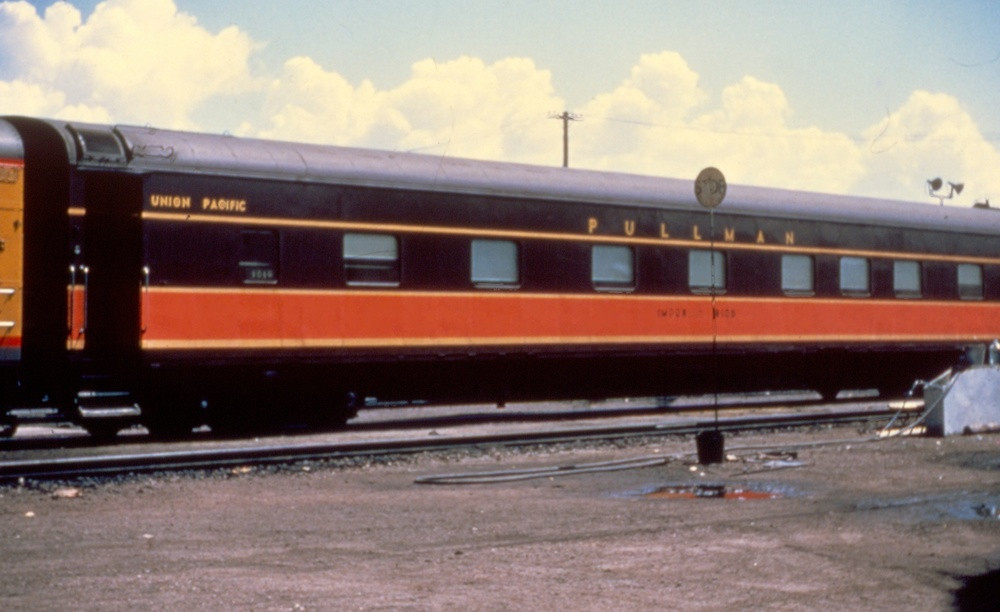 Imperial Bird – Shown in IC colors on July 13 of 1955 – Jerry LaBoda Collection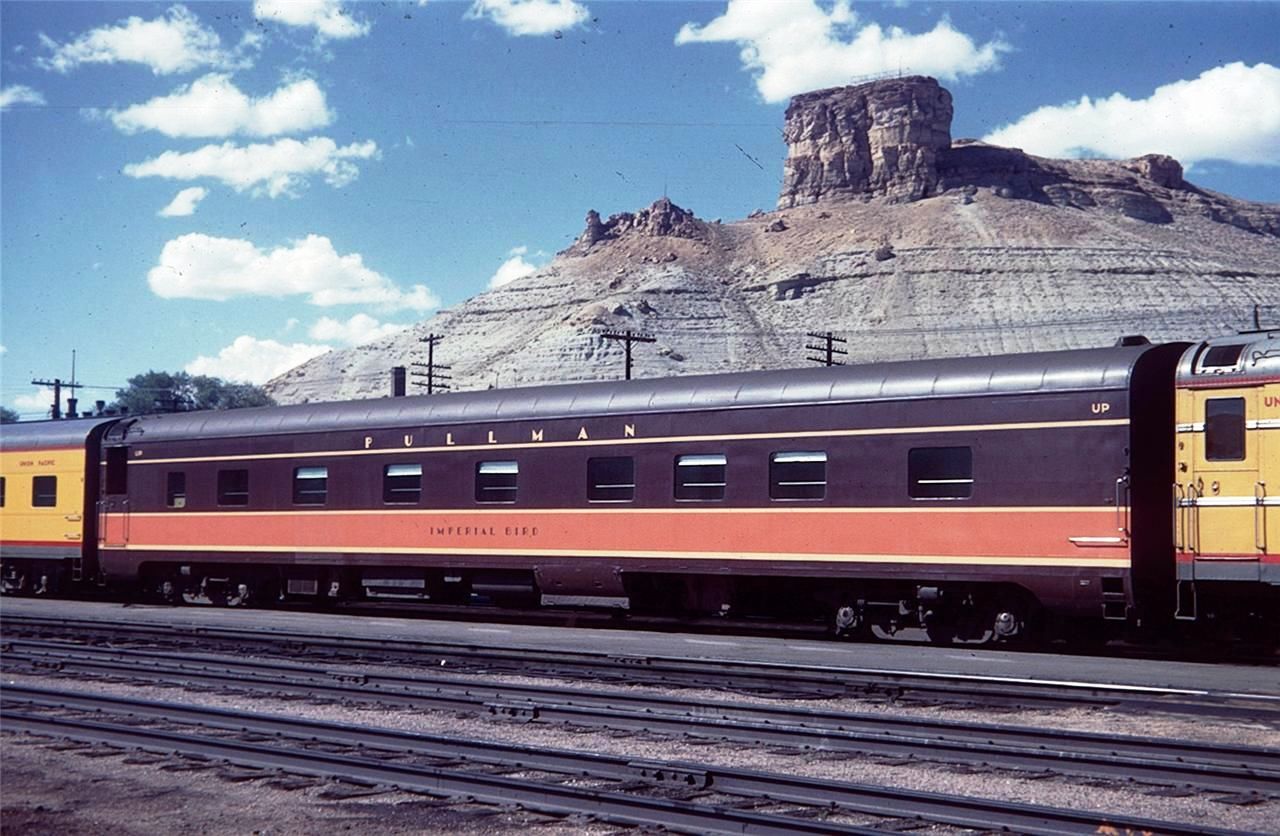 Shown in Green River in 1959, Imperial Bird was repainted several times during the UP's ownership. The car ran winters on the IC and summers with UP; we figure the car was repainted each time it was reassigned.
The car was purchased by the Pacific Railroad Society, Inc. (PRS) of San Dimas in December of 1969, repainted in PRS's yellow and green livery, and put into service for use as a private car on its well-known excursions operated behind Amtrak trains starting in the early 1970s.  The car was later repainted into an Amtrak-mandated paint scheme of Platinum Mist with blue and red strips which the car wears today.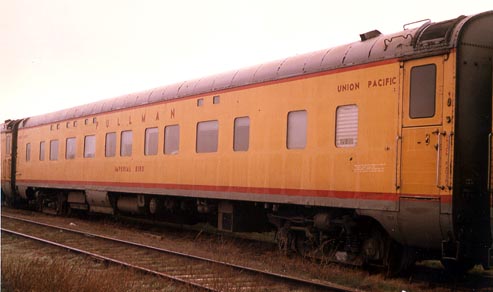 Imperial Bird shown as purchased by PRS from the UP. Photo taken in Mira Loma in December of 1969 where several of her sister cars were also in storage.  Herb Johnson Photo/Pacific Railroad Society Collection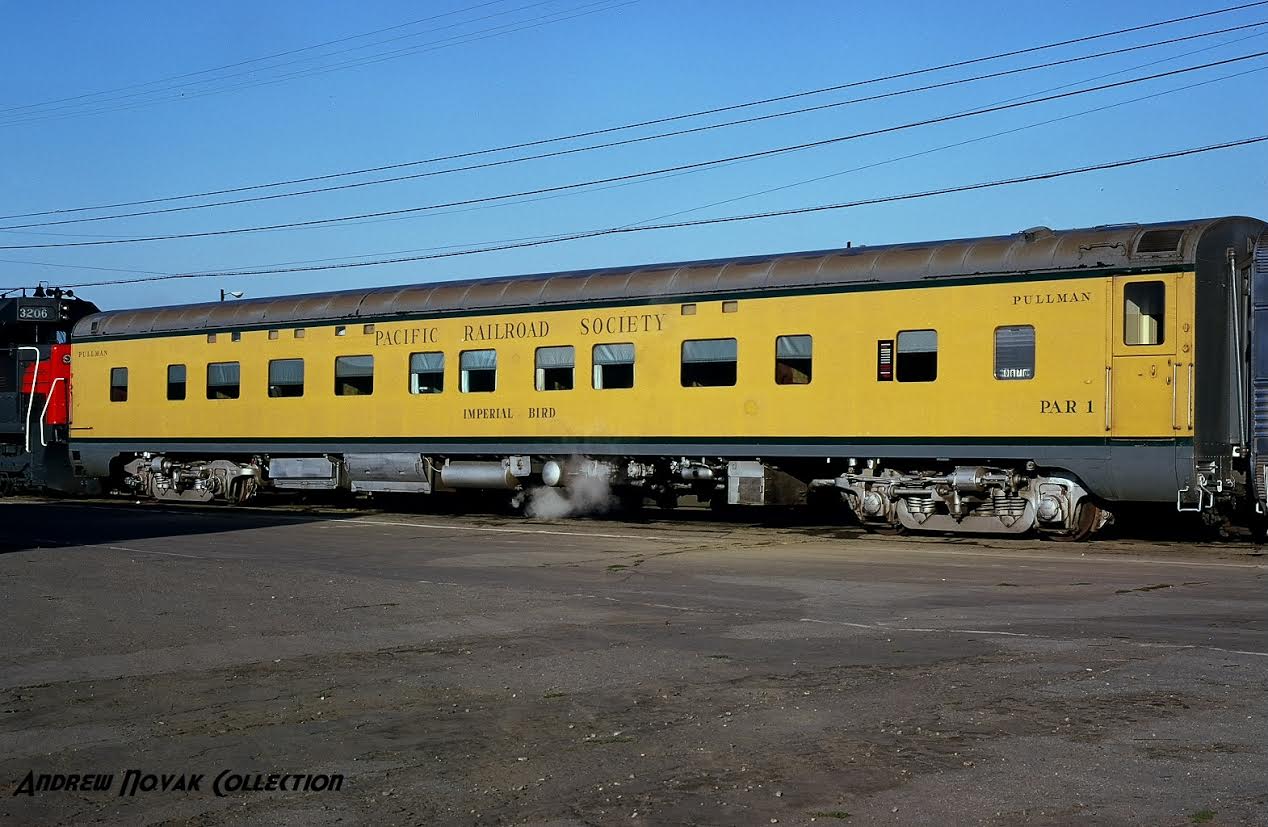 The Bird, shown here in the early 1970s, was painted in PRS's Yellow and Green livery by PRS members with help from UP's painters from East Yard for use on excursion trains – Andrew Novak Collection
After serving PRS for years on excursions to such far-flung destinations as Mexico and Yellowstone National Park, the car was put into storage in East Los Angeles, CA at PRS's Saunders Yard awaiting restoration.  In 2015, however, PRS received notice that two of the three storage tracks at Saunders Yard would need to be cleared to make way for Union Pacific to deliver carload freight to one of the yard's two warehouses.  PRS began seeking for a suitable caretaker for the car.  After negotiations with one other railroad museum fell through, PSRMA expressed interest in acquiring the car.
By January of 2016, ownership of the Imperial Bird was transferred to PSRMA.  Arrangements were made to extract Imperial Bird from Saunders Yard in Commerce by removing a fence and the car's two trucks to roll the car out onto an access road on dollies so it could be loaded on a flatbed truck and transported to Campo.  Most of February and part of March were spent preparing Imperial Bird for movement which included removing the Waukesha Ice Engine and Generator, the propane tank storage box, almost 100 feet of steam piping, and disassembling the trucks and brake rigging.  The Bird finally left East Los Angeles on Friday, March 11, 2016 and spent two days traveling out to Campo aboard a combination of semi trailer and dolly.  The car was towed across the museum grounds on dollies with a large forklift and then jacked back down onto its own wheels by the end of the day on Monday.  Pictures from the move are displayed below.
The car is to be put on static display in the Museum's Display Building to show visitors what overnight rail travel was like in the 1940s and 50s.  Plans are to return the Bird to its UP Armour Yellow paint scheme and restore her to operable condition when time and funds permit.
Moving the Imperial Bird to Campo: