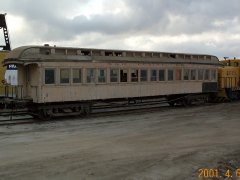 This wooden coach from the 19th century served on four railroads, was extensively rebuilt, and later used in "period" motion-picture making.
Built by Jackson & Sharp Co., Wilmington, DE; 1899
This open-platform car has narrow-board siding, a finely-detailed wood interior, and translucent glass clerestory windows with three-dimensional designs. It originally had five double-center oil lamps and two restrooms. The car has 18 windows per side, red plush rollover seats, wood 4-wheel trucks and underframe, and couplers by Standard Coupler. It's about 54′ 2″ long (62′ 2″ with platforms) and 9′ 10″ wide. It has a door-sill builder's plate from Jackson & Sharp, an early carbuilder later acquired by ACF. The classic car went to the Western New York & Pennsylvania Railway, a 686-mile system linking Buffalo and Rochester, NY with New Castle and Emporium, PA as one of five cars (# 296-302), and has "WNY&PRR" truck castings. The museum has a builder's photo of WNY&P #296. Formed in 1887, the WNY&P was acquired by the Pennsylvania Railroad in 1901. Its coaches were later renumbered into PRR's 3351-3500 series.
The car's early numbers and history are unknown. In April 1916 it was on the Marshall & East Texas Railway, a 92-mile line to Elysian Fields, TX as coach #5. In 1920 it was sold for $1,000 and possibly another car, by car broker Houston Railway Car Company to the 5-mile Dardanelle & Russellville Railroad, an Arkansas shortline opened in 1883 and still in business. It arrived in North Dardanelle, AR December 4, 1920.
Rebuilt in April 1921 in D&R's North Dardanelle shops, it was placed in service as DR #14 June 1st. A restroom and four seats were removed from one end, and end windows added on both sides of the door to create a 20-seat observation room separated by a partition with a door from the other 40 seats. Half-high partitions and six mahogany-finish, leather- upholstered armchairs also were installed in the observation room. The rebuilding provided the D&R with private accommodations for officials and guests when needed in lieu of a business car, and cost $4,020.96.
In 1938, DR #14 was rented by 20th Century-Fox to film Jesse James on the KCS near Neosho, MO. Some sequences became "stock" footage and were later used in Belle Starr, Gunsmoke, The Big Valley, Buffalo Bill, and other films. DR #14 was retired in December 1944 and sold to Fox for $1,200. It left Russellville June 8, 1945, and arrived at the studio lot in West Los Angeles (Century City) July 24th. It was used from 1946-72 in many movies, including Centennial Summer, The Raid, Love Me Tender, The True Story of Jesse James, The Second Time Around, Powder keg, Walls of Jericho, and the Nichols and Bearcats TV series. It was last lettered "B&H Central RR" and "Southern Pacific Lines". Fox removed and sold the car's lamps, moved it to a Malibu canyon ranch in the late 1950s, and sold it to Short Line Enterprises for tourist railroad use in 1972.
DR #14 and RSS #3 were traded to the PSRMA for an 0-4-0T locomotive in April 1976, trucked to Poway, CA June 7-8, and displayed seven years at Old Poway Village, where roof and other repairs were made by museum members. Trucked to Campo February 10, 1983 and placed in the carbarn February 12, they were the first museum passenger cars to arrive there. DR #14 is being preserved "as is", and when time and funds permit, will be repaired, refurbished, and displayed as a historic artifact.
1993 Pacific Southwest Railway Museum Association. W. Schneider