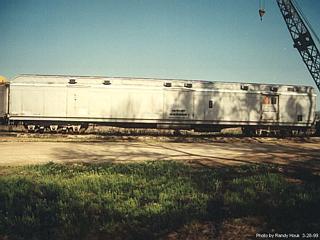 This unusually long car was used for many years to transport race-horses, and then was converted into a Roadway Machine Parts car.
Built by Pullman Car & Mfg. Corp.; Pullman, IL; 1930
Built as a horse/express car in the 1990-1999 series and numbered ATSF #1997, the car is 82′ 2″ long (78′ 4″ inside) & weighs 156,300 lbs. (78.15 tons). It has a 9′ 6″ high sliding door on each side, Miner Safety brakes, six-wheel trucks from General Steel Castings, and Timken roller bearings (added in the late 1940s). The car was originally painted Coach green (dark olive) with yellow lettering. It may have been repainted solid Medium grey with a black roof and white lettering between 1953 and 1971, to distinguish it from non- roller bearing cars, which remained Coach green.
ATSF #1997 transported racehorses between racetracks and other points around the country during the decades when passenger trains were the principal means of transportation. It has a very wide end door at one end for loading horses from special platforms to which it could be backed up, with a smaller door within it for car-to-car passage. It originally had three wide sliding doors per side, the equipment needed to feed and care for the horses and accompanying attendants and handlers, and space for Railway Express Agency use.
When the movement of racehorses was taken over by specially-built trailer trucks and in some cases airplanes, ATSF #1997's use as a horse/express car ended. It was in Santa Fe's Chicago coach yards in May 1972, awaiting disposition. As often happened with cars no longer needed for their intended service, ATSF #1997 was converted into a Maintenance-of-Way car. It was rebuilt into a Class WK-50 Roadway Machine Parts work car at the Santa Fe's Cleburne, TX shops August 2, 1974. Two doors per side were replaced by walls, leaving only one sliding door per side. Painted silver and renumbered ATSF #205993-MW, it was used by the Santa Fe in maintenance service.
In October 1989, ATSF #205993-MW's repair & maintenance equipment was removed and it was retired and condemned, as the Santa Fe no longer had any use for it. The car was in San Bernardino, CA at the time. Following a request from the PSRMA, it was donated by the Santa Fe Railway to the museum in December 1989. It was delivered to San Diego by the Santa Fe, taken to San Ysidro in January 1990 and to Campo in February by the SD&IV on "Great Freight III".
ATSF #205993-MW is currently on display in operating condition at the Campo museum, and will be renovated and repainted Coach green. It will be redesignated ATSF horse/express car #1997, although it will not be restored to original configuration, due to structural changes and the stripping and altering of its interior. It will be used to store equipment, house museum interpretive displays, and possibly as a classroom/video theater. A sister car, ATSF #1999, is at the Orange Empire Railway Museum in Perris, CA.
1993 Pacific Southwest Railway Museum Association. W. Schneider