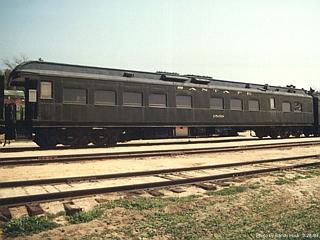 This classic steam-era open-end heavyweight had five color schemes, and has been in excursion use longer than in "regular" service!
Built by The Pullman Car & Mfg. Corp., Calumet, IL; 1926
Part of Lot #4986, Series #1508-1512, ATSF #1509 is 83′ 4 3/8″ long and 10′ wide; weighed 170,600 lbs.(85.3 tons) as built; has six-wheel trucks, belt-driven generators, and 1930s air-conditioning that cools the dining & lounge areas but not the galley or forward corridor. It was originally Coach green, a dark olive lighter than Pullman green. The kitchen has a wood & coal-burning stove, grill, ovens, two sinks with steam jets, a refrigerator with roof-top ice hatch, and a side service door. A steam table with coffee urn and carving table separates the kitchen from the serving pantry.
In April 1947 the interior was modernized to Plan 23-C, #3182. The car was designated a cafe/lounge, and on June 14, 1947 was painted aluminum with black shadow striping, to blend with new fluted-side stainless steel cars. It was later repainted all-gray with a black roof. On September 28, 1950 it was painted two-tone gray with black roof at San Bernardino, CA.


Seen here in Los Angeles, ATSF #1509 awaits its next assignment. Stan Kistler Photo – Joseph Testagrose Collection.
ATSF #1509 has three 4-seat and three 2-seat formica-top tables in its dining room. The cocktail section contains a wardrobe, linen locker, crew lavatory (installed about 1967-68 in a storage room), small stainless-steel bar, two 4-seat tables, and two vinyl settees with smoking stands. The lounge area has eleven upholstered armchairs and a writing desk with chair.
It's believed the car was used on the Kansas City-Tulsa Oil Flyer, Chicago-Los Angeles Grand Canyon and Fast Mail & Express, and the Phoenix-Los Angeles "Bankers' Special", via the Parker cutoff. It also ran on excursions, including all Santa Fe's 1950s Farewell to Steam California specials, and charters, including Pacific Railroad Society trips from Los Angeles to San Diego and Cushenbury, CA and 37 Golden West Rail Tours trips to Carlsbad, NM, Flagstaff, AZ, Barstow, Los Angeles harbor, and other places. SKF roller bearings were added between July 1964 and July 1967. In October 1967, it was sold to GWRT (owned by Dick Ritterband and Ed Cheetham). It was based at Santa Fe's Redondo Junction yard in Los Angeles, and used on excursions to Bakersfield, CA and other destinations. In 1972 it was "cornered" and damaged by a switch engine in Los Angeles.
In 1973 ATSF #1509 was purchased by the PSRMA with a loan secured by member Jack Stodelle, which the PSRMA paid. From November 1974-August 1978, it was restored & painted Pullman green with black roof and cream and blue interior at the San Diego Marine Corps Recruit Depot and the Miramar Naval Air Station, and used on museum Miramar Chief trains, a 1976 Fallbrook trip, and on Amtrak trains to Los Angeles & Las Vegas at speeds up to 90 mph. In 1976 it was used in filming MacArthur at San Diego's Santa Fe depot. A truck smashed into and damaged its rear steps right after that. From 1978 to 1982 ATSF #1509 was in the PSRMA's Embarcadero exhibit in San Diego at Harbor Drive and B Street, except when on excursions. Moved to La Mesa depot, it was used on trips to El Cajon and Lemon Grove. In July 1983, it served as a crew diner on the first "Great Freight" to Campo. Used as a lounge car on trips to Miller Creek, San Diego, Jacumba, and Carrizo gorge (where its center frame was sprung on a tight curve in 1990), ATSF #1509 was in the 1987 film A Time of Destiny. It's now being renovated for further service.
1993 Pacific Southwest Railway Museum Association. W. Schneider