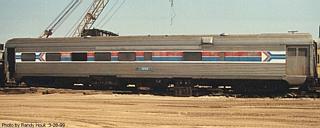 This streamlined car was one of the earliest Art-deco lightweights, had a barber shop, and served on some of America's finest trains.
Built by The Budd Company, Philadelphia, PA; October 1937
Constructed entirely of stainless steel using the Budd "shot-weld" process, this fluted-side car with SKF roller bearings and four-wheel trucks weighs 98,000 lbs.(49 tons), permitting faster train speeds & greater fuel economy than older heavyweight cars. It's 79′ 10″ long over coupler faces (77′ carbody length), 10′ wide (9′ 3″ inside), and 13′ 6″ high. Built for the Santa Fe Railway as club/baggage car ATSF #1380 San Miguel, it had an upper berth & crew lavatory in the baggage room; a barber shop with shower; a buffet section seating 16 passengers that converted into eight sleeping berths for the dining car crew at night; and a 14-seat lounge with bookcase & writing desk. It had a vestibule at the rear and sliding baggage room doors at the front end. The car was always positioned at the head of its train.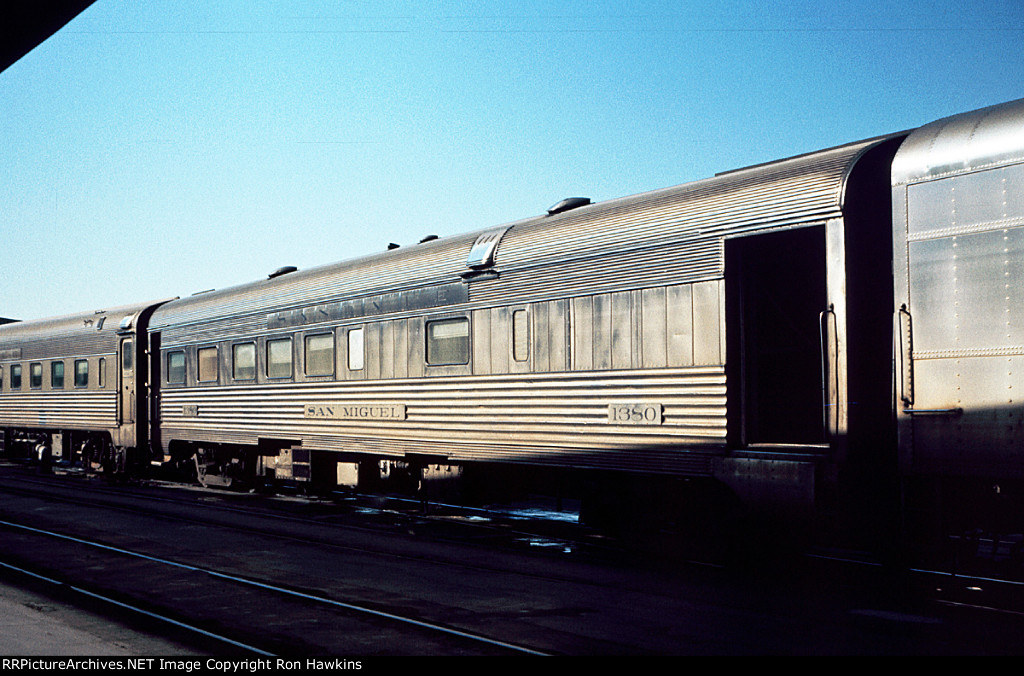 San Miguel pauses at Los Angeles Union Station on December 31, 1972. Photo by Ron Hawkins.
ATSF #1380 San Miguel was one of six such cars(#1380-85) built for the famous Chicago-Los Angeles Chief when it was converted into an all-streamlined train inaugurated January 31, 1938, and served on it ten years. Beginning February 29, 1948, it was assigned to Santa Fe's flagship Chicago-Los Angeles Super Chief. It returned to the Chief for 17 more years January 28, 1951, when the Super Chief received new Pleasure Dome lounge cars. In June 1956 San Miguel was converted to a baggage/dormitory car with 24 bunks, two showers, & two lavatories when the Chief received Big Dome lounge cars. The Chief was discontinued May 13, 1968, and San Miguel placed in storage until assigned to the Chicago-Amarillo-Oakland San Francisco Chief in October 1968. On May 1, 1971 the National Railroad Passenger Corporation, AMTRAK, took over most U.S. passenger operations. ATSF #1380 San Miguel was briefly assigned to the Chicago-Houston Texas Chief, and then to the triweekly San Diego-LA-Oakland-Seattle Coast Starlight. Renumbered AMTRAK #1500 in May 1973, it was last serviced August 7,1981 and retired shortly after, the oldest car then in AMTRAK's fleet.
In 1982 AMTRAK #1500 was purchased by Kyle Railways, Inc., freight operators of the MTDB-owned SD&AE Railway. Brought to San Diego for maintenance-of-way service, it was kept unused in the SD&AE's downtown San Diego yard, with sheet-metal covers on its windows & doors. Kyle ended its SD&AE operations in 1983. In February 1984, the car was sold to PSRMA Board of Trustees member Dan Marnell, moved by the SD&AE to the Grossmont industrial siding in La Mesa, and stored for three years. AMTRAK #1500 was taken to San Ysidro by the SD&IV, and to Campo on the museum's "Great Freight II 1/2" in March 1987.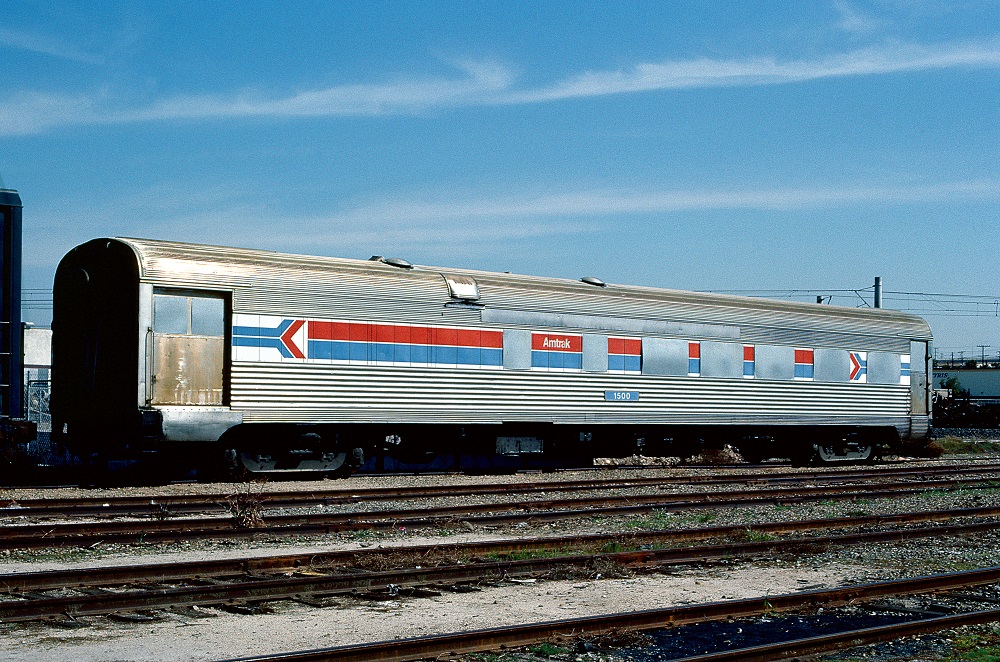 Amtrak 1500 sits in storage in San Diego on February 11, 1984. Chuck Zeiler Photo.
This lightweight veteran of several of the finest extra-fare stream- liners in the nation is now on display at the museum in Campo, and provides an excellent contrast to the museum's older heavyweights. It has not been restored or refurbished since its AMTRAK service.
Pacific Southwest Railway Museum Association. W. Schneider