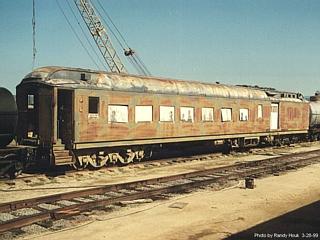 Built for one of America's most famous western luxury trains, this heavyweight classic has undergone several major conversions.
Built by The Pullman Car & Mfg. Corp., Pullman, IL; 1927
This 80′ 6″ long all-steel car with wood doors and six-wheel trucks was in Lot #6115, Car Plan #1050 as a baggage/buffet/library car for the Santa Fe's prohibition-era Chicago-Los AngelesChief. The 12 cars in its #1300-1311 series were named after Native American chiefs, #1304 for Manakaja, chief of northern Arizona's Havasupai from 1900 to 1942, who led the fight to have tribal lands taken in 1908 for Grand Canyon National Monument returned to the Havasupai. The Coach green car had four upper berths for crew use, and it was air-conditioned in February 1934. Replaced on the Chief in 1938 by lightweight cars, it was rebuilt as a bar-lounge/dormitory at the Topeka, KS shops. Renumbered nameless ATSF #1351 February 28, 1939, it was assigned to the Chicago-Los Angeles California Limited.
In January 1948, it was rebuilt as a baggage/bar-lounge/dormitory (Plan 23C-3284) with seating capacity of 34, renumbered ATSF #1303 (2nd; again with no name), and painted aluminum with shaded black shadow striping to blend with the new fluted-side cars on January 23, 1948. It was repainted two-tone gray on September 11, 1950. It often served on seasonal trains between Los Angeles and San Diego County's Del Mar racetrack, carrying large quantities of ice in the baggage room for its bar. It also ran on specials as far south as Guadalajara, Mexico in the 1960s, and was retired in 1967.
ATSF #1303 was purchased in 1968 in Chillicothe, IL by PSRMA Life Charter member Jack Stodelle and partner Dick Ritterband. They brought it back to California for proposed excursion service, storing it in the Union Pacific coach yards in Los Angeles and at the Marine Corps Recruit Depot in San Diego, where it was briefly leased by the PSRMA in 1971. When reconditioning costs proved too high, Stodelle and Ritterband sold ATSF #1303 in 1972 to the Depot Restaurant in National City, CA, located in the 1882- built former California Southern/Santa Fe Depot. It was stripped bare except for its four upper berths. Baggage room and vestibule doors were cut off, its air-conditioner removed, and new utilities and furnishings installed. It was painted two-tone red with a silver roof, and used as a bar/lounge for ten years. ATSF caboose #2286 was displayed next to it. The industrial-area restaurant failed on two occasions, and in July 1982 the cars were donated to the PSRMA.
The car was taken to La Mesa depot, to be refurbished & moved to a proposed spur north of the depot for use as a meeting room/lounge by the La Mesa Chamber of Commerce, which was to fund the work. The plans were changed, and it was moved to the Grossmont industrial siding in La Mesa, where it was cleaned & boarded up. The car went to Campo February 28, 1987 on "Great Freight II", was sandblasted, and repainted green. Some window boards were painted silver with black outlines of people for backdrop use in the 1987 movie A Time of Destiny, with Timothy Hutton & William Hurt. Due to its lack of furnishings, its bar, and wide side doors, it may be rebuilt into a lounge/snack car with handicap restrooms for museum train use, repainted Coach green, and renumbered ATSF #1304 Chief Manakaja.
1993 Pacific Southwest Railway Museum Association. W. Schneider