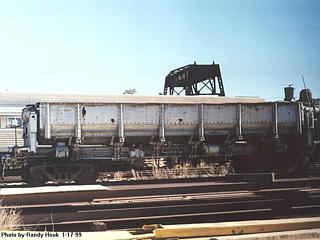 This truckless car is the Museum's only rolling stock from a narrow-gauge railroad, though built as a standard-gauge car. It also has a historical association with the local region.
Builder unknown; Built date unknown.
Painted silver, this side-dump steel-hopper car of unknown origin was used to carry gypsum ore from a quarry containing an estimated 25,000,000-ton gypsum deposit in the Fish Creek mountains of western Imperial County, CA to a processing plant at Plaster City, CA. The plant was established in 1920 by the Imperial Gypsum & Oil Company, and the 3-foot gauge, 26-mile desert railroad connecting the plant and quarry was completed in 1922. The Pacific Portland Cement Company purchased the property in 1924. The U.S. Gypsum Company (now USG) acquired the plant, quarry, and railroad in 1946.
Plaster City is on the mainline of the original San Diego & Arizona Railway (after 1933 the SP-owned San Diego & Arizona Eastern Railway), and is 64.2 railroad miles east of Campo. The line west of Plaster City is still owned by the SD&AE, now a non-operating subsidiary of the Metropolitan Transit Development Board of San Diego County, with freight service to be provided by the San Diego & Imperial Valley Railroad upon completion of the current rebuilding of the now-blocked line through the Carrizo gorge. The former SD&AE east of Plaster City is owned and served by the Southern Pacific Company.
The hopper was donated to the Museum by USG, and then brought to Campo without trucks in the late 1980s. It's now displayed in the Museum yards. The unique hopper may be placed on spare standard-gauge trucks similar to those for which the car was originally intended, and used on Museum work trains. However, as the car's underframe was modified for its former narrow- gauge trucks, it will require customized and time-consuming re-modification" work before it can be re-trucked.
1992 Pacific Southwest Railway Museum Association. W. Schneider