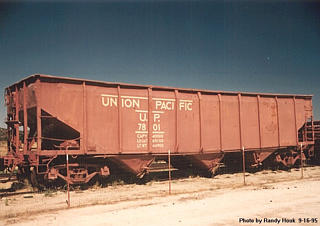 A self-clearing, open-top triple hopper, this durable veteran is typical of such cars, used to carry ore, sand, gravel, and coal.
Built by Pressed Steel Car Company, Mt.Vernon, IL; May 1949
UP #7801 was one of 1,950 Class H-70-1 hopper cars (#6000-7949) in Union Pacific's order #5894-C of November 13, 1947, built to Pressed Steel Spec. #3374, lot #10774 at a cost of $4,453.34 per car. They were to have carried the slogans "Serves All the West" and "Road of the Streamliners", but these were deleted from the order, saving $.59 per car! These offset-side hoppers' exterior vertical bracing is unique on Union Pacific cars. UP #7801 also has a one-of-a-kind horizontal brace on its left side, added later.
The all-steel welded car is 46'2″ long over couplers, 10'8″ high, has a 42'8″ inside length, 10'0″ inside width, and 2,810 cu ft of level cargo capacity. It originally had a 140,000 lb. (70 ton) capacity, 165,100 lb. load limit, and weight of 44,700 lbs. (22.35 tons). Car weights changed as parts were replaced, and because UP #7801's last weight lettering was unreadable when it was acquired by the museum, its present weight lettering of 44,900 lbs. (22.45 tons) was taken from a photo of sister car UP #7940. UP #7801 has Barber S-2 trucks by Standard Car Truck Co., and its three bottom-dump doors have Wine Railway Appliance mechanisms. It was painted Synthetic red with 10″ yellow letters. The UP switched to five-digit freight car numbers on January 8,1959, and UP #7801 was renumbered UP #17801 in June 1959. A new 20″ lettering style had also been adopted in 1956, but was not applied to this car.
UP #17801 was later retired and sold to the Southwestern Portland Cement Company at Victorville, CA. Numbered SWPC #34 and later SWPC #101, it was used as a ballast hopper at the cement plant, and on SWPC's 15-mile Mojave Northern Railroad to its quarry in the mountains, acquiring a thick coat of gray cement dust.
On May 17,1984 SWPC #101 was donated to the PSRMA. It was trucked to Fallbrook, CA, and loaned to the Mitchell Company as a ballast hopper in rebuilding trackage on the Naval Weapons Station Annex. In 1985 SWPC #101 and museum-owned DAFX #89429 were moved south on Santa Fe's Fallbrook branch and stored on the Marine Corps Base at Camp Pendleton, first at Stuart Mesa near I-5, and later in an industrial warehouse area. Taken to San Diego February 28, 1987 by the Santa Fe, they missed "Great Freight II" by a few hours. Moved to Matanuca, BC by the SD&IV, they were brought to Campo in March 1987 on the museum-operated "Great Freight II 1/2".
In late 1987 SWPC #101 was cleaned, repaired, repainted red, and renumbered UP #7801 in its original 10″ yellow lettering. Due to a misreading of shadowed numbers on a photo of UP #7940 used as a model,UP #7801's capacity and load limit numbers were temporarily repainted 100,000 lbs. less than they should have been. UP #7801 is in operating condition, and is the museum's ballast hopper.
1991 Pacific Southwest Railway Museum Association. W. Schneider