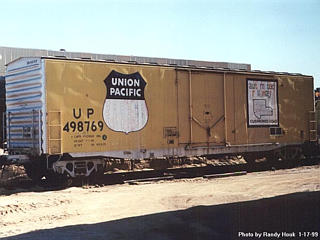 The Museum's newest and most modern car, this "billboard" freight car is also its largest boxcar, and carried all types of merchandise requiring protection from theft or weather.
Built by Pullman-Standard Car Mfg.Co., Michigan City, IN; June 1966
This modern Class BI-70-9 boxcar is of all-steel construction, and has Timken and Brenco roller bearings on its four-wheel trucks. It's approximately 52'0″ long, 10'6″ wide, and 14'3″ high, with interior dimensions being 50'1″ long, 9'3″ wide, and 9'11" high. The doors are 10'6″ wide and 9'4″ high. The boxcar weighs 79,700 lbs. (39.85 tons), and has a capacity of 139,000 lbs. (69.5 tons) in its very large 4,594 cubic feet of cargo space. Unlike earlier boxcars in the Museum's collection, UP #498769 has no rooftop walkways, as they were no longer needed by the time this car was built, and were banned as being too hazardous to train crewmen.
The car is painted in UP's Armour yellow with black lettering, and Aluminum ends, roof, and underframe. It carries a giant red, white, & blue UP shield emblem on each side near one end, and a stylized, multicolored UP system map with the slogans "Automated Rail Way" and "Cushioned Load" near the other end, billboard style.
During its operational career, UP #498769 was serviced in Idaho at Buhl in September 1970 and at Pocatello in May 1977. Retired in April 1984, it was given to the city of La Habra on UP's Orange County, CA branch for use as a La Habra fire department storage car, and kept on a siding in the adjacent city of Fullerton, CA. The planned use did not work out, and hearing of that, the PSRMA sought to acquire the boxcar. On August 20, 1986 La Habra's Acting Fire Chief authorized the UP to release the car to the PSRMA, and the Museum accepted the donation from La Habra on August 22nd.
Although UP #498769 was only four miles from the Santa Fe's Los Angeles-San Diego mainline through Fullerton (where the UP and Santa Fe cross and briefly use the same tracks), the two railroads had no interchange there. So the car was moved over 70 miles east by the UP to Colton, CA, where it was turned over to the Santa Fe and taken to San Diego, passing within four miles of its former storage site enroute! It arrived in San Diego in January 1987, and was stored in the downtown San Diego SD&IV yard until brought to Campo on the Museum's "Great Freight II" on February 28, 1987.
Now on display in operating condition outside the Museum's carbarn at Campo, UP #498769 was fitted out by Museum volunteers with storage shelves for the use of the Museum's Steam Team in its restoration work on SP steam locomotive #2353, next to the boxcar. It's used as a storage car for tools, parts, and equipment being used in the restoration of the big Ten-Wheeler, as well as a place to temporarily store various parts of the locomotive.
1991 Pacific Southwest Railway Museum Association. W. Schneider