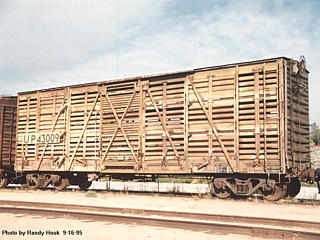 This tri-level, steel "hog car" is typical of those used to carry livestock from farm areas to markets, and was purpose-built for a unique high-speed southern California-bound UP stock train.
Built by Union Pacific Railroad, Albina, OR; April 1964
This modern type Class S-40-16 stock car has horizontal steel side slats with outside diagonal cross bracing and a wood interior with three floor levels. The car has H&L Peacock double-acting brakes, Barber S-2 four-wheel trucks, & Timken roller bearings. UP #43009 was not supposed to be sent off-line, as expensive roller bearings could not be justified if the car was used on other railway lines. It's 41'0″ long, 9'1″ wide, and 14'4″ high. The interior is 40'9″ long, 8'6″ wide, and 10'8″ high. The car weighs 59,400 lbs. (29.7 tons), and has a weight capacity of 110,000 lbs. (55 tons) in its 3,738 cubic feet of cargo space. It can carry up to 200 hogs.
UP #43009's sides are painted in Armour yellow with red lettering except for its large number, which is black. The car's roof, ends, and underframe are painted aluminum with red letters.
The 270 cars in its class (UP #43000-43269) were especially built for UP's high-speed DLS (Daylight Livestock Special) which carried hogs from Salt Lake City to Los Angeles in 27-30 hours, complying with federal law requiring stock be unloaded, fed and rested every 36 hours. The hogs went to the Farmer John Brand Meats Division of the Clougherty Packing Company, which bought them in the midwest, and shipped them live to its slaughter house and packing plant in Vernon, CA. (Most processors slaughtered their hogs in the midwest and shipped frozen carcasses or processed pork to the west coast). In 1976 the train was renamed CLS (California Livestock Special). It was discontinued in 1985, and the stock cars were added to UP's hotshot Chicago-Los Angeles CSLAZ trailer train at Salt Lake City.
UP #43009 was renovated at Albina in 1976 to allow in-car feeding and watering of the hogs. Shutters were installed on the sides to control inside temperatures all year and permit the elimination of straw bedding in the winter and allow sand bedding all year round. It was serviced by the UP at Omaha, NE in February 1974, January 5, 1984, and September 1985. It was one of two UP stock cars seen at Rogers, NE (near Omaha) on September 22, 1989 by a museum Board of Trustees member. In an unusual coincidence, when the Union Pacific donated a stock car to the PSRMA in December 1989 after a request for such a donation by the museum's Acquisitions Director, it was one of those cars! UP #43009 was brought to Colton, CA by the UP and to San Diego by the Santa Fe. It was moved by the SD&IV to San Ysidro and stored outside its engine house there until brought to Campo in February 1990 by the SD&IV on "Great Freight III".
UP #43009 was cleaned, and is displayed in operating condition at the museum in Campo. Further rehabilitation will continue as time and funds permit. The museum currently has no plans to ship hogs!
1993 Pacific Southwest Railway Museum Association. W. Schneider