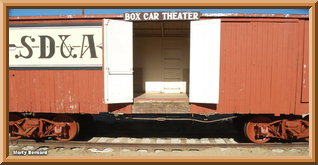 This historic carbody is probably the oldest SD&A freight car in existence, and may have been the first "depot" at Campo!
Builder unknown; Built in early 1900s (?)
This car is approximately 38'long, 8'11" wide, and 8'3 1/2″ high from bottom to top of car, with a peaked roof extending another 1′. It's of all-wood construction, with tongue-and- groove siding. It has sliding side doors 4'6″ wide, and a small sliding door at one end at the top of the car, 2'2″wide and 3'7″ high, which was probably used to load long sticks of lumber. It formerly had a roof walk. The car's trucks were removed years ago, and its bottom guides are also gone.
Little is known about this old boxcar. It probably pre-dates the San Diego & Arizona Railway, incorporated in 1906. It may possibly have been acquired from the San Diego & Southeastern Railway when that line was sold to the SD&A in October 1917. (The SD&SE was formed in March 1912 from other railways whose predecessors dated back to 1886 and 1887). When its career as a boxcar ended, SDA #2041 was retired, lifted off its trucks and placed on the ground about 1916 (when the SD&A arrived in Campo and began San Diego-Campo service) or shortly after.
An early photo of Campo taken prior to construction of the Campo depot shows a wooden boxcar — presumably SDA #2041 — with an Order Board, an indication that it may have been used as a temporary depot, making it Campo's first depot!
The car was owned by the SD&A until 1933 and then by Southern Pacific's subsidiary San Diego & Arizona Eastern Railway. The boxcar is still the property of the SD&AE, which was sold by SP to the San Diego County Metropolitan Transit Development Board in November 1979. The boxcar has been in use by the Pacific Southwest Railway Museum Association as a small theater for their passengers waiting for excursion trains.
On Tuesday, March 17 2009, Cid Carlson and Frank Schudar from C & M Crane Company donated their services to lift SD&A #2041 from its location east of the Depot to a pair of period trucks on a snap-track north of the Depot. This move was made as part of the Museum's efforts to restore the Depot and to provide access to a new restroom building.
The museum will organize a special works project to restore the exterior of this historic old boxcar, including original SD&A "Arrow" lettering. When work is completed, a refurbished SDA #2041 will provide another highly visible link with the railroad past of San Diego County, and in particular with the line that opened up the "east county" and played a major role in the development of Campo.
1992 & 2009 Pacific Southwest Railway Museum Association. W. Schneider and Lew Wolfgang