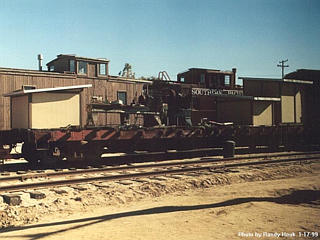 Later assigned to Maintenance-of-Way use, this steel flatcar was formerly used on the Southern Pacific, and carried large, heavy, and bulky items not requiring protection from the weather.
Builder unknown; Built February 1930
This car appears to be a Class F-50-13 flatcar, and was probably built for the Southern Pacific. It weighs 41,400 lbs. (20.7 tons) and has a capacity of about 100,000 lbs.(50 tons) and a load limit of 135,600 lbs.(67.8 tons). Its other dimensions are not known, as the car's lettering has been almost completely worn off.
The original number and history of this car are unknown. Lettering on its sides show it was last weighed and painted at SP's shops in Sacramento, CA in November 1962.
Sometime after that date, the flatcar was transferred by the SP to its San Diego & Arizona Eastern subsidiary for Maintenance-of-Way use, and renumbered SDAE #1215-MW. When the Metropolitan Transit Development Board of San Diego County purchased the SD&AE from the Southern Pacific in November 1979, SDAE #1215-MW was included in the purchase. For many years, it was kept at Campo by the SD&AE. About 1986, it was moved inside the PSRMA's carbarn to protect its wooden decking from the elements.
In 1991 small shed-like structures were built on top of the old MW car by PSRMA workers, to house pieces of Museum equipment that had to be moved out of the Museum carbarn but required protection from the weather. The car was then moved out of the carbarn.
SDAE #1215-MW is now being stored in the Museum's yard at Campo.
1993 Pacific Southwest Railway Museum Association. W. Schneider