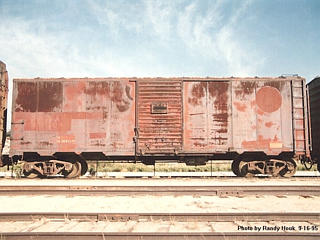 Later converted into a Maintenance-of-Way car, this steel boxcar carried all types of merchandise requiring protection from theft or weather elements.
Builder unknown; Built January 1927
This Class B-50-18 boxcar is approximately 40′ 8″ long, 10′ 5″ wide, and 13′ 1″ high. Its interior is 40′ 6″ long, 9′ 2″ wide, and 10′ 0″ high. The car weighs 44,400 lbs. (22.2 tons), and has a capacity of 100,000 lbs. (50 tons) in its 3,713 cubic foot capacity. It has a load limit of 124,000 lbs. (62 tons).
This car was originally built for the Southern Pacific Lines. Its original number and service history are unknown. The car was last weighed at SP's El Paso, TX shops in November 1960.
Sometime after that date, the aging car was transferred by the SP to its San Diego & Arizona Eastern subsidiary for Maintenance-of-Way use and renumbered SDAE # 1086-MW. It was last serviced by the SD&AE on February 5, 1976. For many years it was based in the SD&AE yard at Jacumba, CA. When the San Diego County Metropolitan Transit Development Board purchased the SD&AE from the SP in November 1979, SDAE #1086-MW was included in that purchase. In 1990 the car was brought to Campo to make room at Jacumba for cars and construction equipment to be used in the rebuilding of two collapsed tunnels in nearby Carrizo gorge.
After some negotiations, SDAE #1086-MW was sold by the MTDB-owned SD&AE to the PSRMA in 1992. When time and funds permit, it will be rehabilitated and repainted, and used for equipment storage. It is currently kept near Campo Depot.
1993 Pacific Southwest Railway Museum Association. W. Schneider