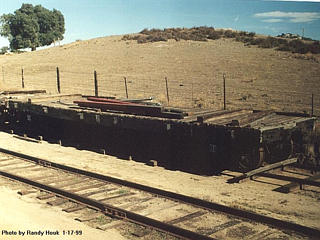 These classic old "platforms on wheels" transported sugar beets and military equipment, and are the Museum's oldest freight cars.
Builder(s) unknown; Built about 1910 (?)
These wooden cars have wood underframes, truss rods, and archbar trucks patented August 24, 1897, with MCB bearings patented August 18, 1896 and October 27, 1896. Their Griffin and SP wheels are from a later service date. The cars have Tower Steel couplers and a load-carrying capacity of 80,000 lbs.(40 tons) each.
The early history of these cars is unknown. They were owned in the 1930s (and probably earlier) by the Ventura County Railway, a 10.5-mile shortline from Port Hueneme and later Wilds, CA to a connection with the Southern Pacific at Oxnard, CA. Wilds was named after W.N.Wilds, a Ventura County Railway president in the early 1940s. The cars, believed to have been numbered VCY #1316 and VCY #1330, had removable wooden side panels, and were used by the Ventura County Railway to carry sugar beets.
During World War II, both cars were requisitioned by the Navy and used at the Naval Construction Battalion (C.B. or "Seabee") Center at Port Hueneme. Their wooden side panels were scrapped, they were renumbered USN #61-02988 and USN #61-02990, and were used to move large machinery and heavy construction equipment on the base.
In 1970, after they had been declared surplus, the two flatcars were purchased by the PSRMA from the Navy for $410 each, requisitions #001-1247 and #001-1248 being dated November 9, 1970. As the Museum had no immediate need for them or place to keep them, the cars continued in storage on the Port Hueneme base for another 13 years. In January 1978 they were inspected, cleaned, repainted, and relettered PSRMA #1316 and PSRMA #1330 by Museum members. The numbers were uncovered by the Museum work crew during the cleaning, and were assumed to be either early Navy numbers or those of a then-unknown prior owner. The PSRMA letters were used to make clear the Association's ownership of the two old cars while they were stored at Port Hueneme.
Because these cars are no longer interchangeable between railroads, they could not be moved by rail to the Museum, and were trucked to Campo by Naval Reserve seabees on October 23, 1983. The wheels of PSRMA #1316 were temporarily removed, to transport the car more easily on top of PSRMA #1330.
Both flatcars are currently on display at the Museum in Campo, where they will be restored, probably with new decking, repainted, and relettered with Ventura County Railway markings as time and funds permit. They will then be again used for moving and storing large, heavy and bulky items of Museum equipment.
1991 Pacific Southwest Railway Museum Association. W. Schneider