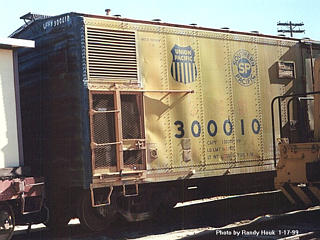 One of the first mechanical-type refrigerator cars built, this car is the Museum's largest "reefer" and its first direct UP donation.
Built by Pacific Fruit Express Company, Roseville, CA; May 1953
This car is equipped with Carrier refrigeration equipment, powered by a Witte opposed-piston Diesel engine built by U.S. Steel's Oil Well Supply Division, instead of using blocks of ice for cooling. A Class R-70-7 steel car, it has a rooftop walk, Symington friction bearings on its four-wheel trucks, and is 52'0″ long, 9'10" wide, & 12'3″ high. Its interior is 45'0″ long, 8'6″ wide, & 7'7″ high, with 2,912 cubic feet of cargo space. Its two side doors are 6'0″ wide and 7'7″ high. The car weighs 79,000 lbs.(39.5 tons) and has a capacity of 130,000 lbs.(65 tons). It's painted in the Standard Refrigerator orange, a yellow-orange color, which in 1929 replaced PFE's original Standard Refrigerator yellow color.
This car was in a lot of 25 (#300001-300025) and was numbered PFE #300010. Pacific Fruit Express was created as a joint venture of the Union Pacific and Southern Pacific railroads in the very early 1900s by Edward H.Harriman, who controlled both railroads, for the more efficient and faster transportation of perishable fruits and vegetables across the country. The PFE existed as a jointly-owned company until dissolved in March 1978. Southern Pacific retained the Pacific Fruit Express name, while the Union Pacific named its half Union Pacific Fruit Express. PFE #300010, which was serviced and weighed in March 1974 at the SP/PFE shops in Tucson, AZ and the SP/PFE shops in Roseville, CA in March 1978 was assigned to the Union Pacific and relettered UPRX #300010. It was not repainted, and retained the large PFE lettering and both UP and SP emblems on its sides. It was serviced in January 1985 at UP's Nampa, ID shops.
In June 1985, UPRX #300010 was donated to the PSRMA by the Union Pacific Railroad, its first donation to the Museum. Brought to Colton, CA by the UP, it was taken to San Diego by the Santa Fe and to the Grossmont industrial siding in La Mesa by the SD&IV free of charge in September 1985. In February 1987, the SD&IV moved it to San Ysidro, and it went to Campo on the Museum's "Great Freight II" on February 28, 1987. It was steam-cleaned in July 1987, using a "Rig-Shine" machine, which removed most (but not all) of the UPRX letters on the car's sides.
Redesignated PFE #300010, the car is on display at the Museum in Campo on "Reefer Row", where it is well-maintained by the Museum's volunteer workers and is used for equipment storage. The car will be further rehabilitated as time and funds permit.
1993 Pacific Southwest Railway Museum Association. W. Schneider