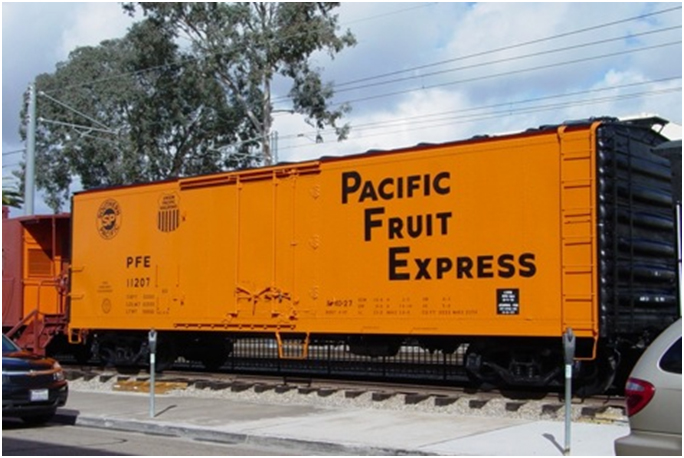 One of the last ice-type refrigerator cars built, this steel car is seen daily by thousands at its downtown La Mesa, CA location.
Built by Pacific Fruit Express Company, Colton, CA; April, 1957.
The Pacific Fruit Express Company was created as a joint venture of the Southern Pacific and Union Pacific railroads in the early 1900s by Edward Harriman, who controlled both. It was dissolved in March 1978, and its assets divided. SP retained the Pacific Fruit Express name, while UP named its half Union Pacific Fruit Express. This Class R-40-27 steel "reefer" went to SP's PFE in March 1978.
PFE #11207 is an RS-type car (refrigerator cars using ice or ice & salt to cool their cargo space), with rooftop hatches into which ice blocks were dropped at icing stations enroute ("stage icing"). It was in PFE's 10001-11700 series, and has PFE four-wheel trucks, Symington, Flexo, & Alcolid journals, and Preco electric fans. The car is 40'0″ long, 9'6″ wide, and 12'10" high. Its wooden interior is 33'2″ long, 8'3″ wide, and 7'4″ high. It has sliding plug doors with hinged extensions to permit the use of fork-lifts. It weighs 59,500 lbs. (29.75 tons), and has an 82,000 lb. (41 ton) capacity in its 2,022 cubic-foot cargo space. It has both SP and UP emblems on its Standard Refrigerator orange sides (which faded with age, and now appear more yellow than orange), indicating this car was not repainted after the 1978 split of the original jointly-owned PFE.
Used for the fast transportation of fresh produce, PFE #11207 was shopped at PFE/SP's Tucson, AZ shops in August 1963 & October 1965, when it was last weighed. In 1971 and 1972 some of these cars were converted to mechanical-type cars at PFE/SP's Roseville, CA shops, and the first digit of their numbers changed to "3". Non-converted cars were renumbered in the 190000 series, so PFE #11207's first two digits were painted over and it became PFE #190207. Later the first three digits were painted over and it was again numbered PFE #11207. It was serviced at the Nampa, ID PFE/UP shops in December 1975, SP's Roseville shops in July 1978, the Santa Fe shops (!) at Fresno,CA in July 1980, and SP's Stockton,CA shops in April 1986.
Retired in 1986, PFE #11207 was bought by PSRMA Board of Trustees member Dan Marnell for exhibit at the La Mesa Depot, operated by the PSRMA and the La Mesa Historical Society. The 1894 San Diego, Cuyamaca, & Eastern Railway depot is La Mesa's oldest building. The car has been leased to the Museum by Dr.Marnell for $1 a year.
In July 1987 PFE #11207 was repaired by Museum members and steam-cleaned with a "Rig-Shine" machine. Though operable, PFE #11207 is on a display track, not connected to the adjacent SD&IV/San Diego Trolley tracks, so can't be operated. But it's seen daily by more people than any other freight car exhibited by the Museum!
In 2009 PFE #11207 and the entire train exhibit in La Mesa was power washed and painted, and then re-lettered by Larry Rose.
1993 Pacific Southwest Railway Museum Association. W. Schneider