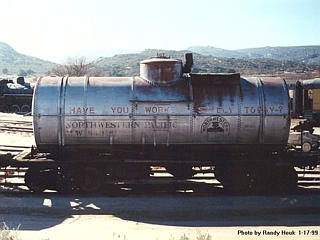 This classic old "bottle on wheels" was owned and used by two Southern Pacific subsidiaries, served as a locomotive fueling point, and is the Museum's oldest tank car.
Builder unknown; Built August, 1918
NWP #MW 849 is 31′ 1″ long, 10′ wide, and 14′ 4″ high; weighs 45,100 lbs.(22.6 tons); and has a capacity of 100,000 lbs. (50 tons). It can transport up to 9,055 gallons of liquid (oil, gasoline, chemicals, etc.) in its riveted steel tank. It has a wooden catwalk around it, and a small platform (possibly added later) on top of it, just to the rear of the single expansion dome, which provides a space of about 1% to 2 % of the total tank volume, for the expansion of the commodity carried. The car has a continuous center sill under the tank, and 4-wheel Vulcan cast trucks. It's painted silver with black decking & underframe, with very faded black lettering and Northwestern Pacific emblems on its sides. The tank's upper half carries the slogan "Have you worked safely today?" in red, which was probably added after it was transferred to Maintenance-of-Way service. It was last weighed and pressure-tested in May 1950 at NWP's shops and carfloat terminal in Tiburon, CA.
The service history of NWP #MW 849 is unknown. It was listed in the 1931 edition of the Railway Equipment Register as NWP #0849, one of five Northwestern Pacific tank cars numbered NWP #0845-0849. It served on NWP's northern California lines in the "redwood empire" between Sausalito, Tiburon, Sonoma, Santa Rosa, Willits, and Eureka. Eventually it was reassigned to Maintenance-of-Way service, and its lettering was changed. The NWP was a subsidiary of the Southern Pacific Company.
Sometime after 1961, probably around 1967 or 1968, the tank car was transferred to another SP subsidiary, the San Diego & Arizona Eastern Railway, which built a new engine house in its Commercial Street yard in downtown San Diego about that time. NWP #MW 849 was placed on a special track and used by the SD&AE to store diesel fuel for its locomotives. Fuel level marks were pained on its ends, but the car was not repainted.
In 1979 the SD&AE was sold by the SP to the Metropolitan Transit Development Board of San Diego County, and in 1984 Rail Tex, using the name San Diego & Imperial Valley Railroad, became the freight operator for the MTDB-owned SD&AE. In 1991 the SD&IV moved its operations to San Ysidro, and recommended that the no-longer-needed tank car be given to the Museum. It was donated by the MTDB, moved to San Ysidro, and taken to Campo by the SD&IV on "Great Freight IV" on July 12, 1991.
NWP #MW 849 is currently on display in operating condition in the Museum yards at Campo. It will undergo repairs and repainting, probably as NWP #0845, when time and funds permit.
1992 Pacific Southwest Railway Museum Association. W. Schneider