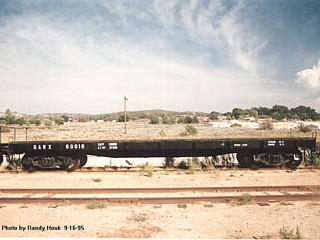 This unique car was the museum's first steel-frame flatcar, and its first piece of ex-Marine Corps equipment. It was (and still is) used to carry large, heavy, and bulky items.
Built by General American Transportation Corp.; June 1922
This flatcar is 41'6″ long, 9'3″ wide, and weighs 37,200 lbs.(18.6 tons). It has a load-carrying capacity of 80,000 lbs.(40 tons) on its decking of 3″ x 6″ oak boards. The car has a steel frame. Its truck frames are tee-section Bettendorf, cast for the New York Central Railroad in 1922 with NYC FS 727 bearings. Its journal box lids have GATX cast on them. The car's wheels are from later years, and are embossed B&O 1941 and CBQ 1942.
The early history of this car is unknown, except that it was at one time lettered GARX #60010. As GARX and GATX are both reporting letters of the General American Transportation Corporation, it's probable (but not certain) that GARX #60010 was built, as well as used, by General American. The "X" denotes cars not owned by a railroad, but which could be exchanged between railroads. It was painted black for its service as GARX #60010.
In October 1945 the flatcar was rebuilt by the Haffner-Thrall Car Company of Chicago Heights, Illinois. Sometime after that it was acquired by the U.S. Marine Corps Air Station at El Toro, CA. It was painted Boxcar red and numbered USMCAS #262097. Later it was repainted gray, still at USMCAS El Toro.
In mid-1967 USMCAS # 262097 was noticed on a U.S. government surplus list, bid on, and acquired by the PSRMA for $150 in administrative costs. It was taken by truck to Campo.
The car was immediately cleaned by museum volunteers, revealing its past colors and markings. Its deteriorated decking was replaced with new boards in 1987-88 by museum volunteer workers, and the car was repainted and given back its earliest known number, GARX #60010.
The restored flatcar is on display in operating condition on the museum's freight car line near the Campo depot. On May 25, 1991 it was used as the stage for a country and western band during the local "Campo Days" weekend fair. GARX #60010 will also be used in hauling rail and other components for repair and replacement work on the museum's SD&A demonstration railway.
1991 Pacific Southwest Railway Museum Association. W. Schneider