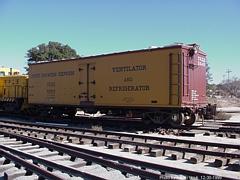 This classic old car is an example of the wooden ice-type "reefers" used in the first half of the 20th century for shipping produce.
Built by Fruit Growers Express Co., Alexandria, VA(?); 1928 (?)
FGEX #56415 is an RS-type car, meaning refrigerator cars using ice or ice & salt to cool their cargo space, and was one of 1,567 cars in FGE's #55000-56566 series of ventilated Class C cars. It has a steel underframe; wood sheathing; 4-wheel FGEX trucks; AB brakes; a galvanized steel roof added in the late 1930s with walkway; rooftop ice hatches into which blocks of ice were dropped at icing stations on its route ("stage icing"); and adjustable ice grates. Its ice capacity is 9,600 lbs. (chunk), 10,200 lbs. (coarse), or 10,600 lbs. (crushed). Electric circulating fans were added in later years.
The car is 41'8″ long, 9'1″ wide, and 12'1″ high. Its interior is 33'2 3/4″ long, 8'3″ wide, & 7'5″ high. The swinging side doors are 4′ wide and 6'1 1/4″ high. It weighs 60,400 lbs.(30.2 tons), with a load capacity of 81,000 lbs. (40.5 tons) in its 2,010 cubic feet of cargo space. FGEX #56415 ("X" denotes cars not railroad-owned, but exchangeable between railroads) had FGE Standard yellow sides; black hardware, lettering, side sills, and underframe; and FGE Standard brown roof and ends with white lettering.
The Fruit Growers Express Company was formed March 18, 1920 as the outgrowth of a government antitrust suit against the Armour Packing Company, which had operated a large fleet of refrigerated cars. The Chicago & Eastern Illinois, Norfolk & Western, and New York, New Haven, & Hartford railroads had a proprietary interest in the FGE, which had its headquarters in Washington, DC, and its major shops at Indiana Harbor, IN, Alexandria, VA (Potomac yards), & Jacksonville, FL. It provided service primarily east of the Mississippi River.
The early history of FGEX #56415 is unknown. Its first appearance in the Official Railway Equipment Register was in January 1948 when #55000-56999 were reported as FGEX "additions", indicating it may have been acquired from another company as part of a fleet purchase in 1947. It was rebuilt at the Jacksonville shops in November 1949, and weighed and painted at St.Petersburg, FL in October 1968, with the horizontal lettering bars and periods in "F.G.E.X." eliminated, and the roof (including hardware) painted aluminum.
While in San Diego in 1971, FGEX #56415 was "bad ordered" & placed on a siding. Noticed and inquired about by the PSRMA, it was donated to the museum by the Fruit Growers Express Company in July 1971. It was stored at the Marine Corps Recruit Depot and Miramar NAS, later moved to the La Mesa depot, repaired & repainted by museum members, displayed for several years, and used as a storage car. In February 1987 FGEX #56415 was taken to San Ysidro by the SD&IV, and brought to Campo on the museum's "Great Freight II" F
ebruary 28, 1987. Full restoration began in December 1988, and included siding replacement and repainting in its original FGE colors with a brown-painted roof by museum workers. Final painting of the restored car was completed in October 1992, and it was lettered in late 1992 and early 1993. FGEX #56415 is displayed on "Reefer Row" and used for storage.
1993 Pacific Southwest Railway Museum Association. W. Schneider