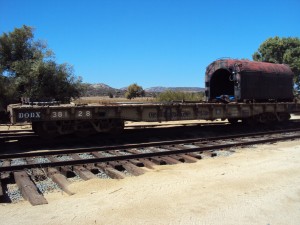 This heavy-duty flatcar with 100-ton capacity and roller bearings was used nationwide by the Army to transport military equipment.
Built by Magor Car Corporation; April 1953
DODX #38128 is 54′ long, weighs 71,000 lbs. (35.6 tons), has a load-carrying capacity of 200,000 lbs.(100 tons), and a load limit of 259,000 lbs.(129.5 tons). It has a steel frame with side-pockets for stakes, and a wooden deck. The car has six-wheel Buckeye-type trucks, Brenco roller bearings, straight-shank couplers possibly installed in April 1967, and five-inch airbrake piston travel.
This flatcar was Stock #58-6262-15-800, Model #W-2483, built for the U.S.Army under contract #DA36-022-TO-6015, and was originally numbered USAX #38128, according to a plate on the car. The "X" designated it as a non-railroad-owned car that could be exchanged between railroads. Later, in the interest of uniformity, all such cars owned by all armed forces had their lettering changed to DODX for Department of Defense. USAX #38128 was then relettered DODX #38128, even though it continued to be owned by the Army. "United States Army" and "USAX" lettering on its sides was painted over, and "DODX" stenciled where "USAX" had been. Always painted Olive drab with white lettering, it was last repaired and repainted July 12, 1961 in the shops of the Cape Fear Railways, operators of the Army base trackage and connections at Fort Bragg, NC. The car was serviced in June 1981 and May 1989 at Santa Fe's Barstow, CA shops.
DODX #38128 was declared surplus in late 1990 and stored at the Barstow Marine Corps Supply Center's Annex at Yermo, CA. At that time, the museum was in the process of acquiring surplus Pullman flatcar DODX #39106 from the Annex. When extra couplers, trucks, re-railers, and switch stands were also made available, the museum requested the donation of a second flatcar to transport them to Campo, and DODX #38128 was selected. Because the car was Army- owned, it had to be transferred on paper from the Army Rail Service Division office in St.Louis, MO to the Department of Defense Rail Service office in Bayonne, NJ before it could be donated. This took several months, due to a hold on the disposal of military railroad cars during the 1990-91 Persian Gulf operations. The paperwork was completed in July 1991, costing the museum $225 in administrative fees paid to the Surplus Property Department of California. By then the equipment to be shipped on the car had been scrapped, and the car was delivered empty. In October 1991 it was taken free of charge by the Union Pacific from Yermo to Barstow, by the Santa Fe to San Diego, and by the SD&IV to San Ysidro, enroute to Campo.
DODX #38128 will be placed on display at the museum, and used to store and transport large, bulky, and heavy items. When repainted, the flatcar will be given back the original USAX #38128 lettering it carried for most of its operational career as an Army car.
1991 Pacific Southwest Railway Museum Association. W. Schneider