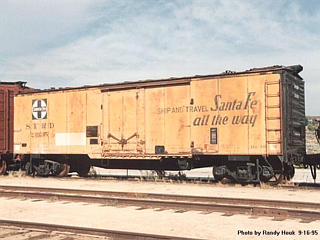 This steel-sheathed "billboard" car was built with a wooden body, rebuilt twice, converted to MW service, and carried four numbers!
Built by American Car & Foundry Co. or Haskell & Barker or The Pullman Car & Manufacturing Corp.; 1920 or 1922
Built for the Santa Fe Refrigerator Despatch Express Service, this car was one of 5,000 wooden Class Rr-W and Rr-X cars numbered SFRD #12951-17950. Its specific builder, year, and original number and class are unknown. It has rooftop ice hatches into which blocks of ice were dropped at icing stations along its route (stage icing). In 1937, 402 Rr-W and Rr-X cars were rebuilt into Class Rr-19 cars at Santa Fe's Topeka, KS shops, and renumbered #31254-31655. They were the first steel-sheathed rebuilds, and retained swing doors.
Beginning in mid-1947 Santa Fe used four slogans on the left sides of reefers and boxcars: "Grand Canyon Line", "El Capitan", "Super Chief", and "Chief", with "Texas Chief" replacing "Grand Canyon Line" in 1948. Each car class was divided into four groups, and slogans were assigned in the above order, from the lowest-numbered group to the highest. In 1953, the meaning of "SFRD" was changed. "SFR" was retained, but different fourth letters described various refrigerator car types. As "D" stood for ice bunker or mechanical reefers without load dividers, this car retained SFRD lettering.
In 1957 393 Rr-19 cars were rebuilt at Santa Fe's Wichita, KS shops with Camel sliding (plug) doors, new ice hatches, and new trucks. They were renumbered SFRD #21000-21392, and painted Reefer orange (yellow-orange), with black roofs, ends, and underframes, and the Santa Fe cross-in-circle-in-square emblem above their numbers. In April 1957, the renumbered SFRD #21335 had "Route of the Chief, Chicago-Los Angeles Streamliner" lettered on its left side, and "Ship and Travel Santa Fe All the Way" on its right side.
The car is 42'1 1/2″ long, 9'2″ wide, & 12'4″ high. The interior is 33'2 3/4″ long, 8'2 3/4″ wide, & 7'4 1/16″ high. It weighs 61,900 lbs. (30.95 tons), and has a capacity of 79,000 lbs. (39.5 tons) in its 2,004 cubic-foot cargo space. It has a fish belly underframe, galvanized rooftop walkway, Ajax hand brake, Preco electric fans, ASF A-3 4-wheel trucks, and Symington journals. The ice boxes have a capacity of 314 cu.ft. (full icing) or 170 cu.ft. (stage icing).
When mechanical refrigerator cars replaced the ice-type ones, SFRD #21335 became a Maintenance-of-Way car. In April 1966 it was repainted dark red and renumbered ATSF #205073-MW at Bakersfield, CA. It was serviced in 1977, 1980, & 1982 at Santa Fe's Barstow shops, and sent to the yards in San Bernardino, CA in 1983 for use as a storage car by Santa Fe's Bridge & Building department.
Spotted by member and former Southern Pacific locomotive engineer Ronald Kinum, it was sitting in the San Bernardino yard near the old sand house, and he contacted the shop foreman and then the superintendent's office by telephone about the car. Upon contacting Larry Rose for approval, he then wrote a letter to the Los Angeles Division Superintendent office and received a favorable reply, which was forwarded to Larry Rose to pursue officially. The rest of the negotiations for donations were handled by PSRMA.
ATSF #205073-MW was donated to the PSRMA on September 27, 1983 and brought to San Diego by Santa Fe. Moved to the Grossmont siding in La Mesa by the SD&AE, its MW numbers & red paint were removed and SFRD numbers and Santa Fe emblems repainted by museum workers. It was taken to San Ysidro by the SD&IV and to Campo February 28, 1987 on "Great Freight II". SFRD #21335 is in operating condition and is used for storage on the museum's "Reefer Row" at Campo.
1993 Pacific Southwest Railway Museum Association. W. Schneider