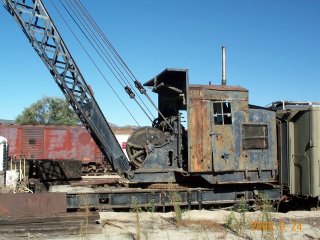 This self-propelled crane is one of only five of its type believed to exist today of the hundreds built for industrial service. It is an extremely rare antique, and literally a "scrapyard veteran".
Built by Brown Hoisting Machinery Company, Cleveland, OH; 1920
According to plates riveted to both sides of its frame, this self-propelled locomotive crane was builder's #7036, with a 31,500 lb. (15.75 ton) lifting capacity @ a 15-foot radius. Originally steam- powered, it was converted to diesel power around the 1940s with a Cummins engine and had its boom reinforced, increasing its lifting capacity to about 40,000 lbs. (20 tons). As the other locomotive cranes in its class were converted to full electric power, #7036 is unique and a historic rarity. Its boom can traverse 360 degrees and it can move itself under its own power, hence the "locomotive" name. Its builder later became the Industrial Brownhoist Division of the American Hoist & Derrick Company.
Of riveted construction, #7036 has four-wheel MCB archbar trucks. The crane is approximately 26'0″ long, 10'0″ wide, 2'9″ high from rail to base of platform, and 15'0″ high to the top of its roof. Its original dimensions changed slightly when it was converted to diesel power. The cab/engine housing has an 11'6″ radius.
A small brass plate attached to one side of its frame states this crane was purchased in the year 1920 for $18,724.95, and was Navy Yard #35-132, indicating the U.S.Navy was its first owner. It may have been built in 1919 and delivered in 1920. It is not known to which Navy Yard #35-132 was assigned, nor how long it was there. It was later sold to Rich Foundries in the Los Angeles area, and bought in the 1940s by Joseph Levin & Sons, dealers in scrap iron & metals, established in 1892. It went to their Huntington Park, CA plant near downtown Los Angeles, and was used in scrapyard work.
When no longer needed by the Levin Company, it was offered to the Travel Town Transportation Museum at Griffith Park in Los Angeles in January, 1983. That museum did not have sufficient track space to accomodate the crane, and the proposed donation was declined. (The crane was erroneously referred to then as Serial #8043). Two years later it was offered to the PSRMA, which accepted it, and on September 20, 1985 the crane was donated to the PSRMA by Ron Levin, the company's owner. He had it painted black inside and out, then disassembled, shipped via truck from Huntington Park to Campo, and reassembled, all at no cost to the museum. On November 5, 1985 it was appraised at $60,000.
This rare piece of mechanical-era industrial technology is now on display at the museum in Campo, and may someday be restored to operating condition.
1993 Pacific Southwest Railway Museum Association. W. Schneider