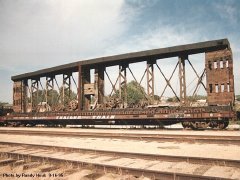 This classic piece of heavy railroad equipment was used to turn locomotives and other equipment around in a railroad yard for nearly a century, so they could operate in the proper direction.
Built by American Bridge Company, New York City, NY; 1903
This turntable is a "through girder" design supported on 90# ring rails at a radius of 35.65 (+/-) feet, and guided by a center pivot bearing. The structure is 74.5 feet long, and sat in a 75-foot diameter pit 3.65 feet deep. The steel girders form a 14.1 foot wide structure (without the control kiosk and jacking pads). The girder flanges are 1.1 feet wide, and the girders are 6.35 feet deep. The decking is 1' x 1' timber balk, which are supported on the bottom flange of the girders.
This turntable was used for many years at the Santa Fe's Calwa Railroad Yard north of Malage, at the intersection of Cedar and East North Avenues southwest of the city of Fresno, CA, in Fresno County. By 1989 the Santa Fe no longer needed the 86-year-old turntable, and was planning to release it for salvage.
On October 7, 1989, several recently-retired Santa Fe executives and SDRM officers discussed the museum's need for a turntable and the availability of this one. Following a visit to the Calwa yard by a museum study team January 28, 1990, the turntable was donated to the museum by the Santa Fe Railway. Two 75-foot Trailer Train flatcars built in 1955 (ATTX #470513 and ATTX #470860) were requested by the museum from the Trailer Train Corporation to transport the turntable, donated to the SDRM, and sent to Fresno.
The turntable was disassembled and loaded onto the two flatcars by a Santa Fe work crew and a crane from General Crane of Fresno. The girder structure was loaded on its side on ATTX #470860, and the control kiosk, deck balk, and ring rails on ATTX #470513. A Santa Fe section crew disassembled the rails.
The turntable was carried under extended height tags from Fresno to San Diego by the Santa Fe via the Tehachapi loop, where it had very little, but adequate, clearance in going through the tunnels. The turntable arrived in San Diego in October 1990, and after brief storage on a siding near south Harbor Drive, was taken to Campo on a special movement by the SD&IV.
The turntable is still on the two Trailer Train flatcars on which it was transported from Fresno. When the museum is able to acquire a site on which to install it, this historic and classic old turntable will be reassembled, and once again used to turn locomotives and cars around in the traditional manner, as it did for 86 years during the "golden age of railroading"!
1993 Pacific Southwest Railway Museum Association. W. Schneider