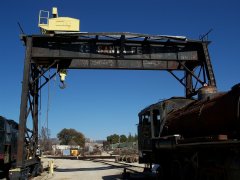 This steel structure was used for decades to lift cars at the Santa Fe's San Diego yards, and is again being used for that purpose by the museum in its Campo yard.
With a lifting capacity of 25 tons, this gantry crane is 28' high and over 40′ wide. It stands on two steel legs each 19′ wide at their bases, and rolls along rails with a track gauge of 37'9″. It can straddle several railroad tracks. It weighs approximately 20,000 lbs. (10 tons). It has electric traction motors at the foot of each of its two legs, which are powered by current from four overhead catenary trolley wires running above a wooden control shack on one end of the crane. It has considerable rigging gear that rolls along the top of the crane. Santa Fe cross-in-circle-­in-square emblems and "Santa Fe" are painted on its sides, as well as "25 Ton Cap."
For many years this giant gantry crane was used by the Santa Fe at the south end of its team tracks south of the Santa Fe Depot in San Diego, near the intersection of Market and California Streets (the latter a dirt street along the Santa Fe tracks in downtown San Diego). In early 1984, the redevelopment of the Santa Fe's property in the area made much equipment surplus. The rolling gantry crane, related equipment including the wooden trolley poles, three switches, two sheds, a motor generator, and a half-mile of rail in the downtown area were all donated to the PSRMA in March 1984 by the Santa Fe, after requests by PSRMA Executive Director Jim Lundquist.
Following money donations by members Dick McIntyre (who also did much of the work) and John Baldwin, the gantry crane was disassembled by museum members and loaded onto flatbed highway tractor-trailers, using a 25-ton capacity rubber-tired ex-Navy P&H crane the museum acquired in mid-1984 through government surplus. The tractor-trailers were provided free by the San Diego Teamsters' driver training program through an arrangement made by Jim Lundquist. The gantry crane was taken to the museum and unloaded by the same truck crane in September 1984.
It is in full operating condition helping with locomotive and car repair over track #11 at the Campo facility.
1993 Pacific Southwest Railway Museum Association. W. Schneider