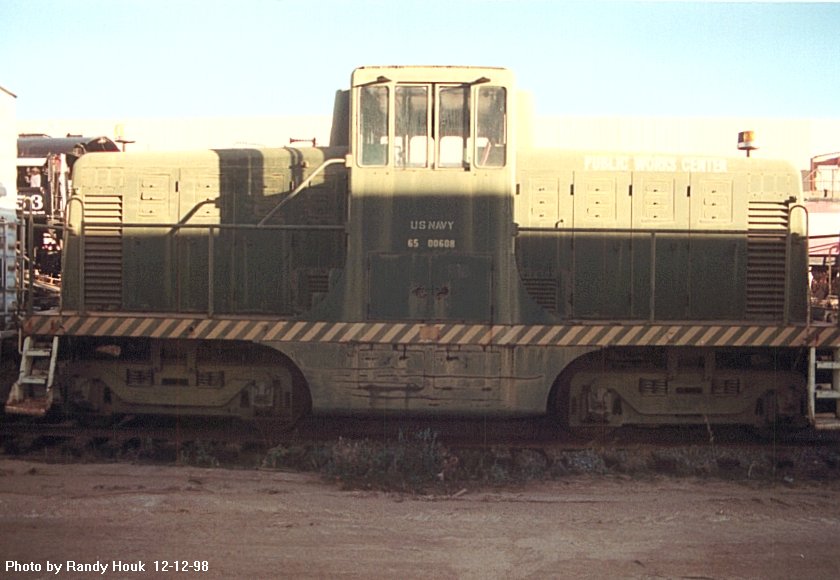 Army, Air Force, Marine Corps, Navy — this 44-ton Railroad switcher is probably the only one in the nation to have served with all four branches of the armed forces, plus a U.S. government contractor!  Built by General Electric Corp., Schenectady, NY; February 26, 1942
Under the "90,000-pound rule" of 1937, locomotives of 45 tons or more required a crew of two on common carrier railroads; the lighter ones did not. The 44-ton types, designed for common carrier railroads to avoid the rule, were known as Railroad switchers; those of 45+ tons, used mainly on industrial lines exempt from the rule, as Industrial switchers. The 44-tonners had higher horsepower, lower rpm, greater speed, larger size, a traction motor on each axle (45-ton ones did not), and were better suited for sustained periods of hard pulling.
This four-axle diesel-electric Railroad switcher was built to Spec. RY24147, Phase Ic. Builder's #15118, it has a designated weight of 88,000 lbs. (44 tons), although like most 44-tonners it probably has heavier deck plates and may weigh out at 45 tons or more. It is 33′ 5″ long, 9′ 6″ wide, 13′ 3″ high; has 33″ wheels in a B-B arrangement; a centercab; and side radiator shutters. It's powered by two Caterpillar D17000 V8 diesel engines, each with eight 5 3/4″ x 8″ cylinders and 190 hp at 1,000 rpm, totaling 380 hp. It has GE733 traction motors on all four axles; two GT555Al generators; 11.25:1 two-step gear ratio; 35 mph top speed; a 250-gallon fuel tank; and orange hood flashers.
Completed shortly after the USA entered World War II, the locomotive was purchased for $65,000 by the U.S. government, and sent to the Iowa Ordnance Plant at Dayman, Ia., operated by Day & Zimmerman, Inc. Numbered #10-44, the switcher was painted gray and lettered for its operators in black. After the war it was assigned to the Army's San Bernardino Air Depot in California, numbered USA #7508, and presumably painted black with yellow trim. When the Air Force became a separate service in 1947, the depot was renamed Norton Air Force Base and the switcher became USAF #7508, probably being repainted Air Force blue.
In the 1960s it went to the Marine Corps Base at Camp Pendleton in San Diego County, was painted Marine green, renumbered USMC #250894, and operated by civilian engineers under the Traffic Management Office of the Base Battalion. It had a hydro inspection August 5, 1970 at the 32nd Street Naval Station in San Diego, and was transferred there in 1972. Repainted green with yellow lettering, "Public Works Center" on the sides of one hood, and deck striping, it was numbered USN #6500608. It became inactive in 1985 due to two cracked cylinder heads.
Declared surplus, USN #65-00608 was donated to the PSRMA by the Navy November 27, 1989, costing the museum $1,000 in administrative fees paid to the Surplus Property Department of the State of California. It was moved to the SD&IV's downtown San Diego yard, and then to its San Ysidro yard, where it was stored until taken to Campo on "Great Freight III" by the SD&IV in February 1990. USN #65-00608 will be restored for use as a museum yard switcher as time and funds permit.
1993 Pacific Southwest Railway Museum Association. W. Schneider