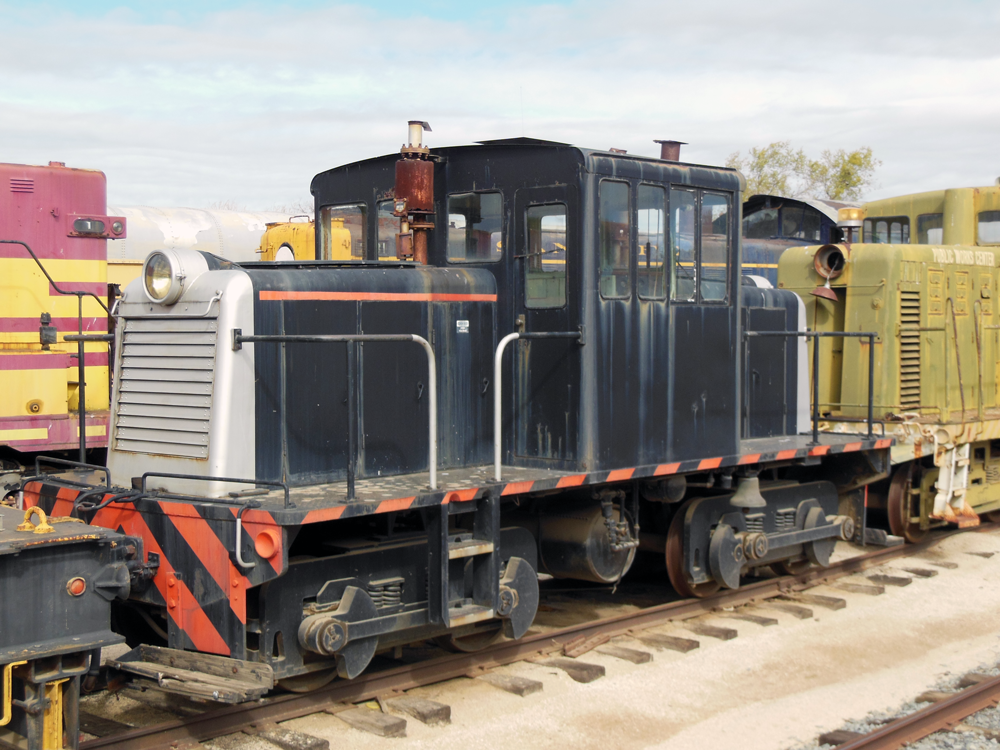 Known as "The Ant" because of its small size & constant activity, this siderod centercab Industrial switcher was the museum's first diesel.
Built by General Electric Corporation, Schenectady, NY; June 1941.
This 4-axle switcher was built to Spec. RY24148, Phase I. Builder's #13133, it has a designated weight of 90,000 lbs. (45 tons), requiring a crew of two on common carrier railroads under the "90,000-pound rule", which industrial & military railroads were exempt from, so is called an Industrial switcher. It's 28′ 4″ long, 9′ 6″ wide, 12′ 0″ high; has 34″ wheels in an Al-Al arrangement; a centercab; square-end grilles; and two Cummins HBI-600 diesel engines, each with six 4 7/8″ x 6″ cylinders developing 150 hp at 1,800 rpm, for a total of 300 hp. It has GE733 traction motors on two axles, with siderods connecting them to the two other axles; two GT1503 generators; a 19.9:1 two-step gear ratio; a 27,000-lb. tractive effort; 20 mph top speed; and 165-gallon fuel tank.
The switcher was delivered new six months before U.S. entry into World War II to the Plum Brook Ordnance Plant near Sandusky, Ohio, operated by B.B. Badger & Sons. Its initial number is unknown. After the war, it went to the Army's McClellan Field near Sacramento, Ca., where it was painted black with yellow trim & numbered USA #7485. The field became McClellan Air Force Base in 1947 and the locomotive USAF #7485, though it may not have been repainted. In 1968 it was sent to the Department of Defense maintenance facility at Hill AFB, near Clearfield, Utah, south of Ogden, which was under the command of the Army Depot at Tooele, Utah, about 63 miles to the southwest. Transferred back to the Army, USA #7485 was later placed in storage at the National Rail Transportation Group's Rail Service Division storage yard, also at Hill AFB.
In January 1972 the surplus switcher was transferred on paper to the Navy with the aid of Congressman Bob Wilson, and donated to the PSRMA in February 1973 (Army regulations prohibited such donations then). Still in Army black, it remained at Hill AFB four more years until taken in February 1977 by UP & Santa Fe to the Miramar Naval Air Station in San Diego. It was repaired, painted black & silver, and lettered "Pacific Southwest Railway Museum", switched some Navy boxcars, and powered the museum's first Miramar Chief trains in 1978. Leased to the MTDB from 1981-83 and equipped with special couplers, it moved San Diego Trolley LRVs before electrification. It's #2 diesel engine was rebuilt in 1983.
When the museum's steam Shay, HLC #3, broke down July 30, 1983 pulling the museum's first "Great Freight", #7485 brought 18 pieces of museum equipment 41.8 miles from Garcia station (Tijuana), BC, Mexico to Campo in nine round-trips and a one-way run. Operating 794 mainline miles, half up an almost continuous 1.4% grade pulling up to 191 tons at about 6 mph, its stacks red-hot in the summer heat, #7485 performed flawlessly. It was the first rolling stock to enter the museum grounds on its own wheels and under its own power. In 1987 #7485 was painted black with silver hood-ends and rails, red hood stripes, and black & red striping on its deck sides and end plates but was not relettered. It's served on museum trains, in 1989-90 Carrizo Gorge track rebuilding with the Walter Barber Construction Company, and has been used as a yard switcher.  As an important member of the Museum's collection, #7485 awaits some traction motor repairs so it can again be made operational.