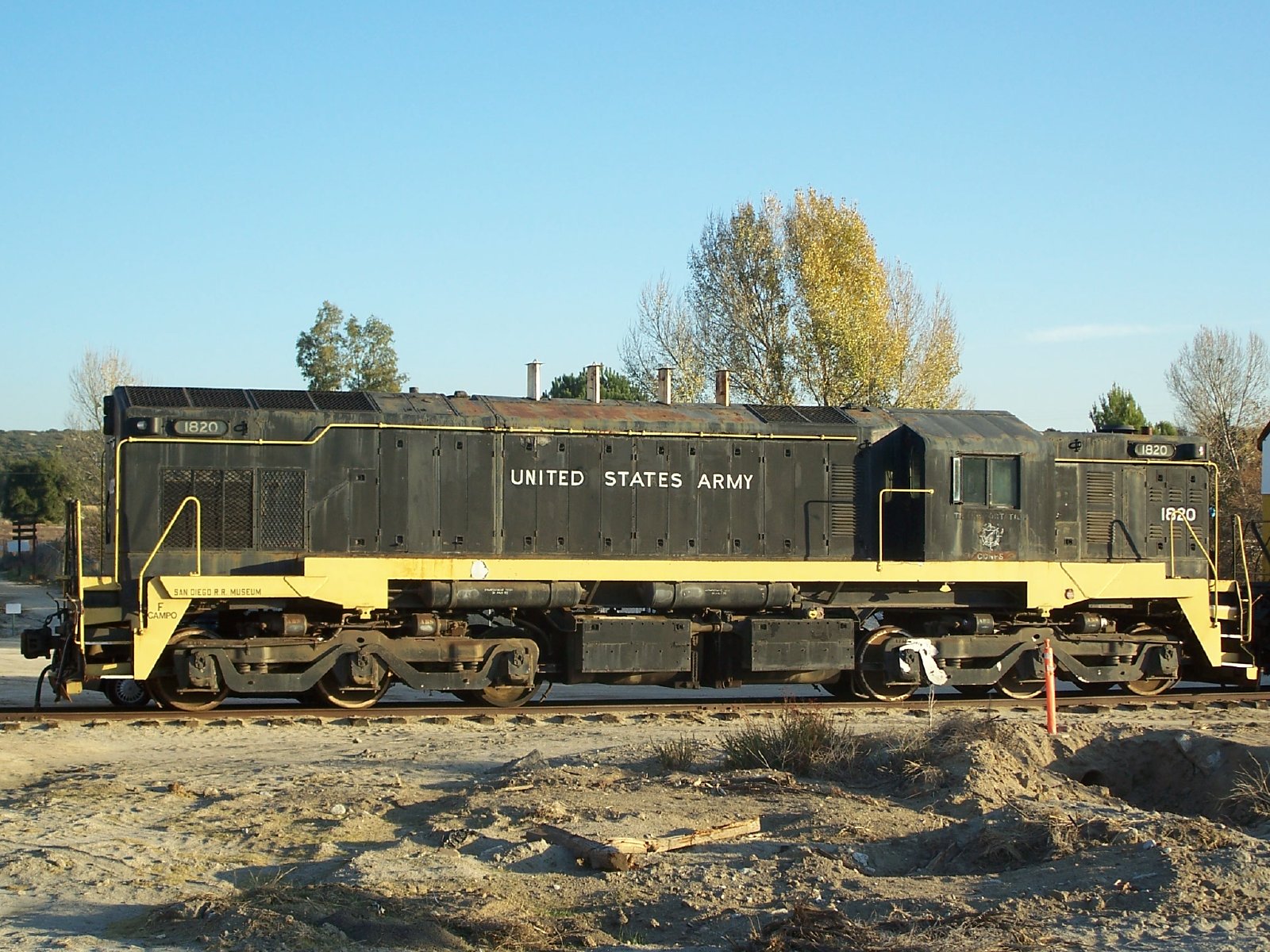 Diesel Electric Locomotive
Restoration Project
This multi-gauge road switcher trained military railroad personnel, served on frozen Canadian tundra and hot western deserts, and was painted in four different paint schemes — all of them black!  Built by Electro-Motive Division of GM, LaGrange, IL; March 1952
This six-axle MRS-1 (Military Road Switcher) was built for the Army Transportation Corps during the Korean War with multi-gauge trucks (56 1/2″, 60″,63″,66″) for possible wartime use in the Soviet Union, with its wide-gauge railways. EMD built 13 MRS-1 units (the museum owns two); ALCo/GE built 83 (the museum owns one). Builder's #2123 was numbered USA #1820. It weighs 240,000 lbs. (120 tons), is 57′ 5″ long over coupler faces, 9′ 8″ wide, and 13′ 6″ high. It has 40″ wheels in a C-C arrangement, and a peaked long hood and cab roof for low clearance operation. It's powered by a 16-cylinder 567B engine with 1,600 hp at 800 rpm; has D27 traction motors on all six axles; D12 generators; 60:17 gear ratio; tractive effort of about 72,000 lbs. at 30% adhesion; top speed of 77 mph; a 1,200-gallon fuel tank, and is multiple-unit (MU) capable. Many parts are the same as those in EMD's GP/SD-7s. It was jet black with white lettering and emblems.
After a break-in on the Belt Railway of Chicago, USA #1820 went to Canada for cold-weather evaluation on Canadian National Railway's Hudson Bay branch from The Pas to Churchill, Manitoba, from November 1952 to April 1953, returning to the BRC. In June 1953 it was sent to the U.S. Army Transportation School at Fort Eustis, Newport News, Va., where it was painted black with yellow trim and white lettering: "United States Army" on its long hood sides, "1820" on its ends and short hood sides, and winged-wheel emblem and "Transportation Corps" on its cabsides. The deck sides later received diagonal yellow and black stripes. About 1962 it ran into a train of coal cars. It was repaired, but still has a ten-foot frame twist. It was repainted in January 1970, with short hood numbers removed, and cabside lettering and emblems replaced by "1820". In 1971 it was sent to the National Transportation Group, Rail Service Division's storage site at Hill Air Force Base near Clearfield, Ut. (south of Ogden and under command of the Tooele Army Depot 63 miles southwest). A photo of USA #1820 illustrated EMD MRS-ls in The Second Diesel Spotters Guide in 1973.
In 1981, the museum sought two low-mileage MRS-1 locomotives. Only the EMD type were available, as ALCo/GE units were then classed as "strategic material". In early 1982, USA #1820 was donated to the PSRMA with some components missing (including brake handles), after release as surplus by the Army Rail Item Manager in St. Louis, Mo.. It cost $500, paid to California's Surplus Property Department, plus charges to have its journals repacked and air brake tests made. It was taken free of charge with EMD MRS-1 USAF #1809 (also donated) by the UP, Santa Fe, and SD&AE to San Ysidro, Ca., and brought up to Campo in July/August 1983 on the museum's first "Great Freight".
USA #1820 was acquired partly to provide parts for the restoration of USAF #1809. Some parts were used for that in 1984, and its cab was nearly removed in 1988. In 1992-93, museum volunteers began restoration of USA #1820 to operating condition.
Repainted in its 1953 scheme of black with yellow trim and white lettering and emblems, USA #1820 will be used as additional and backup power on museum trains.
1993 Pacific Southwest Railway Museum Association. W. Schneider