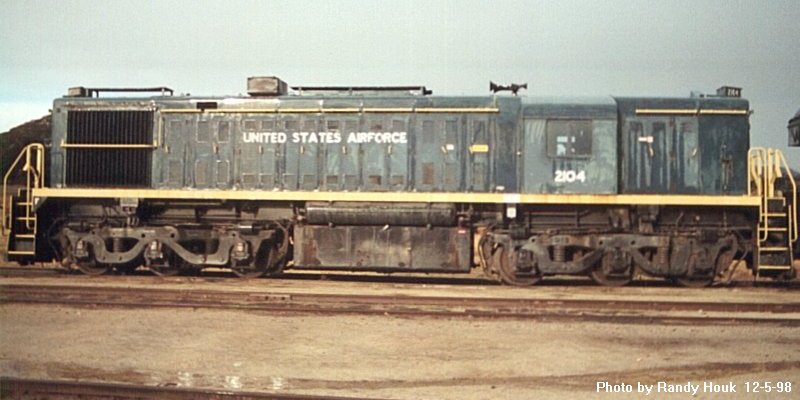 Diesel-Electric Locomotive
RSX-4 / MRS-1
This turbocharged, variable-gauge road switcher was acquired by the museum after only 700 hours of operating time and 157 Hobbs meter hours.
Built by American Locomotive Co., Schenectady, NY; April 27, 1953
This six-axle RSX-4/MRS-1 (Military Road Switcher) was built for the Army Transportation Corps during the Korean War, with multi-gauge trucks of 56 1/2″, 60″, 63″, and 66″, in case the war expanded to the Soviet Union, with its wide-gauge railways. ALCo/GE built 83 MRS-1 units, and EMD(GM) 13 units. ALCO diesels were marketed from 1940 to 1960 with General Electric as ALCo/GE products. This was ALCO builder's #80337; GE builder's #31658; ALCO order #S-3210, Specification #E1670; GE requisition P-249206 and XAG-14P43; and it was numbered USA #E2104. It's 57′ long, weighs 246,000 lbs. (123 tons); has a C-C wheel arrangement; rounded roof; 12-cylinder model 244 turbocharged diesel with 1,600 hp at 1,000 rpm; and GE traction motors on all six axles.
Multiple-unit (MU) capable, it was painted black with yellow trim, white lettering and Transportation Corps insignia. It has two small heaters in the short hood for cold-weather warming of cooling system and lubricating oil; stanchions on its sides for shipboard tie-downs; bases for european-style end buffers; and was engineered so its braking system could be modified to apply vacuum or english style brakes. Its custom design & cost-plus contracting gave it an as-built cost of about $500,000, highest of any museum locomotive.
USA #2104 was sent new to a storage facility at Marietta Air Force Station in Marietta, Pa. (later under command of the New Cumberland Army Depot, 28 miles north near Harrisburg), as the Army no longer had a need for it. It was on a 1960 New Cumberland MRS-1 roster and was sent to Loring Air Force Base near Caribou, Me. in May 1975. In July 1977, it was sent to the National Transportation Group's Rail Service Division storage yard at Hill AFB near Clearfield, Ut. (south of Ogden and under command of the Tooele Army Depot, about 63 miles southwest).
In January 1979, it was put back in operating condition for transfer to the Air Force, renumbered USAF #2104, and painted Air Force blue with yellow trim, black underframe, and white letters. On January 26, 1979 it was sent to Vandenberg AFB near Lompoc, Ca. to replace EMD MRS-1 USAF #1809 (now also museum-owned). USAF #2104 was operated by Chemical Systems Division of United Technologies, a civilian firm, and moved Titan missile part shipments two or three times a year from the SP mainline near Surf, Ca., the SLC-5 complex at South Vandenberg. Usually idle, in 1982 USAF #2104 was moved to an enginehouse 11 miles away in the main section of Vandenberg AFB.
By 1986 USAF #2104 was no longer needed at Vandenberg, and was to be sent to Loring AFB, Me. again. Pits on some journals prevented the move, and it was declared surplus in 1987. Offered to rail groups & museums, it was declined due to acquisition and repair costs. After more study, our museum requested it, and USAF #2104 was donated to the SDRM in March 1991. It cost $5,000 in administrative fees paid to the California State Surplus Property Department, plus the costs of repairs made at Vandenberg AFB by museum volunteers.
On March 15, 1991, USAF #2104 was moved free of charge by the SP, Santa Fe, and SD&IV to San Ysidro, Ca., arriving April 12th. The SD&IV took it to Campo July 12, 1991 on "Great Freight IV", where it was repaired and restarted for the first time November 2, 1991 and operated well into the 1990s. USAF #2104 awaits full restoration when time and funds permit.
1993 Pacific Southwest Railway Museum Association. W. Schneider