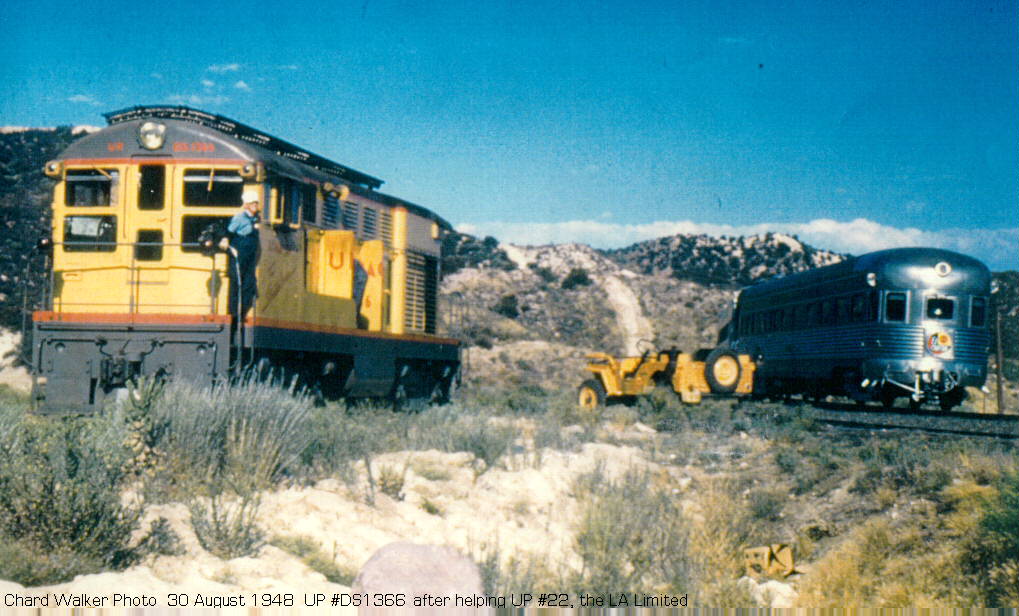 Union Pacific Railroad
Diesel-Electric Locomotive
This high-hood Raymond Loewy-styled end-cab demonstrator is the museum's most powerful locomotive, with an unusual opposed-piston engine. It was one of the first 96 single-engine, B-B freight hoodtype, 2,000 hp Diesel-electric locomotives and is one of only three survivors.  Built by Fairbanks-Morse Company, Beloit, Wi – June 1947
This model H-20-44 road switcher was designed without a short hood for freight use; short hoods were generally used to house a steam boiler to provide passenger cars with steam for heat during the winter months. Builder's #L1042 with engine 866563, it weighs 254,000 lbs. (127 tons); is 51′ long, 10′ 6″ wide, 14′ 6″ high.  The locomotive has 42″ wheels in a B-B arrangement and Timken roller bearings. It has a 38D8 1/8 2-cycle opposed-piston engine with ten 8 1/8″ x 10″ cylinders that develop 2,000 hp at 850 rpm. Four Westinghouse 37OF traction motors provide tractive effort of 42,800 lbs. at 14.7 mph. A 63:15 gear ratio helps the locomotive achieve a 70 mph top speed.
On October 17, 1947 eleven H-20-44s, inlcuding the two demonstrator locomotives, were delivered to the Union Pacific Railroad for $250,000 each, in Armour yellow with Harbormist grey hood & cab tops and underframes; red striping & letters; and green cab/engine room interiors. They were numbered UP #D.S. 1360-70. The "D.S."(later deleted) differentiated Diesels from steam locomotives. This locomotive was numbered #D.S. 1369, with "Serves All the West" and "Road of the Streamliners" on its cab sides. Used as helpers over Cajon Pass, and from Barstow to Kelso in California's Mojave desert, the H-20-44s had problems with heat and altitude and proved difficult to maintain. As 500 HP per axle wasn't generally accepted at the time, only 96 H-20-44s were sold.
Retired in November 1962, UP #1369 was sold to the Southwestern Portland Cement Company in 1963. It's "13" painted over, it worked as #69 on SWPC's 15-mile Mojave Northern Railroad from Victorville, Ca. to its mountain quarry, handling 500-ton trains on the line's 3.5% grade. Air filters were added to its air intake openings for cement plant dust protection, and the cab was air-conditioned for desert summers. In 1969 its yellow areas were painted green and it was renumbered SWPC #408 in red, retaining its grey & red areas.
Appraised at $62,000 by Chrome Crankshaft Company in August 1983, SWPC #408 was donated to the PSRMA by Kennecott Copper on May 15, 1984 and moved by the Santa Fe and SD&AE to La Mesa depot, arriving July 5, 1984.  Several Museum volunteers visited SWPC prior to donation to run and evaluate the condition of the various H-20-44s remaining on the property.  Finding all of them to be in similar condition, volunteers selected #408 to be donated to PSRMA which, at the time, was thought to be the demonstrator unit (#D.S. 1366).  However, after the Illinois Railway Museum began restoration on a sister locomotive thought to be #D.S. 1369, mechanics found that many of its parts were stenciled/stamped for #1366.  It was later determined, after checking the builders plates on both locomotives, that a clerical error during SWPC's renumbering caused the histories of SWPC numbers 408 and 409 to be swapped.
In 1987, the locomotive was moved to San Ysidro by the SD&IV, and on February 28, 1987 it pulled "Great Freight II" (20 pieces of museum equipment weighing about 1,460 tons) up the 49.6-mile, 1.4% grade from San Ysidro to Campo at an average speed of 10 mph, with only two brief stops caused by ground relay trips. In March 1987 it returned to Matanuca (12 miles east of San Ysidro) and pulled the four-car "Great Freight II 1/2" to Campo.
The locomotive was reconditioned, renumbered #1366 and repainted Armour Yellow in 1998.